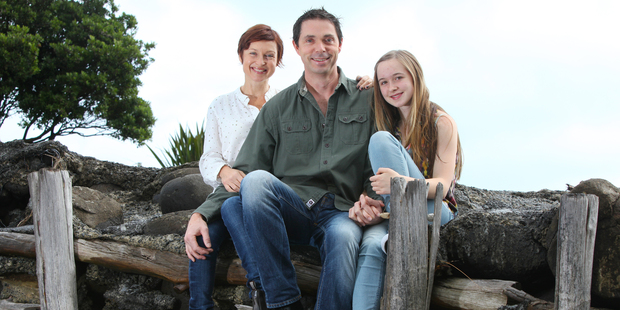 A yoga-practising IT consultant from Raglan has been crowned winner of MasterChef New Zealand 2013 when Aaron Brunet outcooked runner up Paula Saengthian-Ngam by just one point in last night's grand final.
Brunet, 45, had been the favourite throughout the show's 17-episode schedule, beating hundreds of hopefuls and 15 other finalists.
His culinary prowess secured him more than $100,000 of prizes, including a Skoda Superb luxury car, $15,000 of designer kitchen appliances, $5000 in kitchenware, a year's supply of wine, $20,000 of groceries and an exclusive cookbook deal.
In the two-hour finale aired last night on TV One, Brunet and Saengthian-Ngam, 35, faced a taste test before cooking three complex dishes comprising a three-course meal.
Brunet said he hoped to use the book deal to inspire other hopeful chefs. "I want to let my love of food and my enthusiasm and energy for it to come out in the book," he said after the winner was announced.
"I want to really encourage people to be the best they can be, and to love food, rather than be afraid of it."
In last night's final showdown Brunet took out the first challenge by correctly guessing 14 of the 20 ingredients in a bolognaise sauce prepared by judge Ray McVinnie.
Saengthian-Ngam won the entree challenge, overseen by "the godfather of New Zealand fine dining" Tony Astle, with her Duck Salad with Thai Influences.
Termed the competition's "dark horse" for slipping under the radar until later episodes, Saengthian-Ngam's salad set the bar high for the main showdown - scoring an unprecedented 20 points for the dish described by judges as "exceptional".
The main course challenge was assigned by Australian star chef, George Calombaris, and again saw Brunet victorious in replicating Chicken and Vegetables from the menu of Calombaris' flagship Melbourne restaurant, The Press Club.
The highly technical dish incorporated a sous-vide chicken ballotine, crispy brined leg, roast shank and smoked chicken oyster, several vegetables, caramelised creme fraiche, fermented garlic and cauliflower cream.
Calombaris also offered Brunet a job in one of his restaurants, should he ever decide to move to Australia.
Dessert, the final challenge, meant making a "ridiculously fiddly, delicate, fragile, time-consuming, nerve-defying delicious monster", a towering Croquembouche.
Overseen by Australian dessert maestro Adriano Zumbo, the extravagant profiterole tower required a nougatine base and two different custard fillings all covered with an elaborate spun isomalt coating.
After a nail-biting points tally Brunet emerged the winner with 75 points out of 100 to Saengthian-Ngam's 74.
Brunet was the cooking show's fourth champion, following Chelsea Winter, Nadia Lim and Brett McGregor, who have all led successful and high-profile careers in the food industry since their victories.
Join MasterChef winner Aaron Brunet for a live chat on nzherald.co.nz this Wednesday.