Seventh Michael Hill Violin Competition heats up.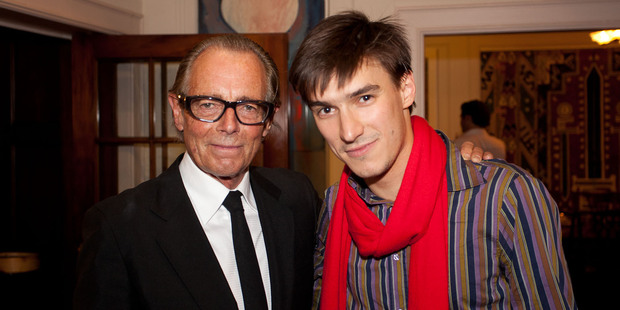 Sir Michael Hill tells me, from the newly renovated Queenstown Memorial Centre, that "there's a lot going on here", proving himself to be a master of understatement.
Preparations are under way for the seventh Michael Hill International Violin Competition and, over this weekend, the South Island town will be one of the cultural centres of the country.
The statistics speak for themselves. Eighteen of the world's most promising violinists, including New Zealander Natalie Lin, have been selected out of 125 applications from 27 countries. The judging panel includes such high-profile names as James Ehnes and Dimitry Sitkovetsky, both of whom will give masterclasses in Auckland next Thursday.
Hill himself is no stranger to the instrument and takes me back to his boyhood in Whangarei, where his father supplemented a job at Beggs Music Store during the Depression by selling vacuum cleaners.
"He was a very good pianist," Hill tells me. "Not a gymnast on the piano, but he had an incredibly deep feeling for the instrument."
The young Hill took to the violin, however, and eventually entered the New Zealand Herald Violin Competition.
"I played a Haydn concerto and came fourth," Hill remembers. "I'd learned all the cadenzas and had it off by heart, but for some reason I played it too slowly."
Hill never put his violin down. "I was a bit cheeky," he laughs, recalling how he played Bach and Vivaldi alongside Miranda Adams in the late 90s, but bigger things were to come of it.
"We talked a lot," Hill muses. "I thought how great it would be to resurrect the old Herald competition." Through Adams, a partnership was fostered with Auckland Philharmonia Orchestra; two past APO managers are still colleagues - Lloyd Williams as a trustee, Anne Rodda as executive director.
The Queenstown connection was always part of the deal.
"It's such an inspirational place down here," he exclaims, proud of the new acoustics in the recently refurbished Memorial Centre.
He likes the small-town atmosphere. "I went to Genoa for the Paganini competition recently," he says. "It was a beautiful hall and beautifully laid out, but I felt it was a little clinical. The adjudicators were detached from the players, contestants came in when a bell rang - there were no smiles."
After 12 years, the New Zealand competition is securely on the international circuit. Last week, James Ehnes sang its praises to me and, when Hill recently met Maxim Vengerov at Cannes, the Russian paid his compliments too.
"It's just snowballed," Hill adds, "and that gives me a great thrill."
Hill points to the continuing careers of past winners. Ning Feng (2005) is one of this year's judges and is currently touring the country. Joseph Lin (2001) now heads the Juilliard Quartet and Natalia Lomeiko (2003) is a Professor at the Menuhin School.
Josef Spacek (2009) is concertmaster of the Czech Philharmonic and Hill is over the moon that 2007 winner, Bella Hristova, had just won an Avery Fisher Career Grants Award. "Amazing feats, all of them," he beams.
The winner takes away $40,000 at a time when the New Zealand dollar means something, but rewards go beyond the financial.
"As well as the usual New Zealand tour, we've made a deal with Chicago's Harris Theatre and Musica Viva in Australia," Hills tells me. "And we're working on something in Salzburg."
This country's art sector needs more benefactors of this ilk. Yet this man is modest about his generosity.
"We need it and it's up to me to do as much as I can," is his matter-of-fact assessment.
"I want to make young people aware of the value of classical music," he adds. "It's good to listen widely but fine music offers a kaleidoscope of meaning and feeling.
"It can be a great part of anybody's life but, if they don't hear it, how are they going to know about it?"

Performance
Michael Hill International Violin Competition: in Queenstown, June 1-3, watch online at www.violincompetition.co.nz
Masterclasses: University of Auckland Music Theatre, Thursday & Friday, 1-5.30pm
Chamber music semifinals: Town Hall Concert Chamber, Wednesday & Thursday, 7.30pm
Final round: Auckland Town Hall, Saturday June 8, 7.30pm