Using the 1981 Springbok Tour proves a success, finds Dominic Corry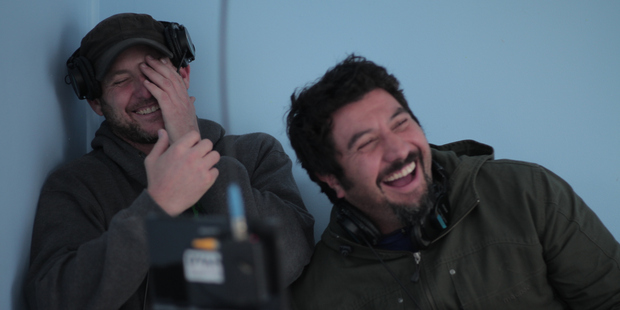 Following the international success of their widely-acclaimed 2011 short The Six Dollar Fifty Man, filmmakers Mark Albiston and Louis Sutherland released their first feature film this week - the heartfelt coming-of-age drama Shopping. The movie tells the story of Willie (played with considerable poise by newcomer Kevin Paolo), a half-Samoan teenager living in a small North Island town in 1981. Willie strives to protect his younger brother Solomon (Julian Dennison) from their tempestuous home life, but when Willie falls in with a group of low-level thieves, he finds himself increasingly drawn to their criminal lifestyle.
"We wanted to make a New Zealand film that had universal themes," Albiston tells me.
"It's set in 1981 when the Springbok tour was on, and we know people have been hit over the head with this."
Sutherland interrupts: "We didn't want to insult the intelligence of our audience.
It comes from our past. It is for Kiwi audiences and the responses we've been getting so far have been amazing."
The pair are longtime collaborators who have been making shorts together for years but mounting their first feature film was not without its challenges. "You can be more ambiguous with a short," says Albiston. "You can leave the audience to drift with ideas.
With a feature though, you've got to tie things up."
Albiston and Sutherland are both credited as writers and directors and they cite their partnership as providing them the strength to face the innumerable battles that come with making a film. Says Sutherland: "We're making a project over six, seven years, so of course there will be collisions. That's just the business. We've grown up together. We get through the hard times because we have such a solid base of a relationship."
The pair were keen to explore New Zealand's racial history. "I was brought up in a household that was sitting on a cultural fence when New Zealand was shaping its multi-culturalism," explains Sutherland. "There were so many more questions then. It was a time when the white middle class walked out and fought publicly for a repressed people."
The pair are already working on their second feature - would they ever consider making films separately? "Collaborating just happens so easily," says Albiston. "There is a lot of tough stuff in making films, but if you've got someone else there, it's great.
"I think [collaboration] is quintessentially Kiwi. We've had to work together. It's a part of our culture," adds Sutherland.
• Shopping is screening now.