Sarah Lang finds the latest TV sci-fi offering sadly lacking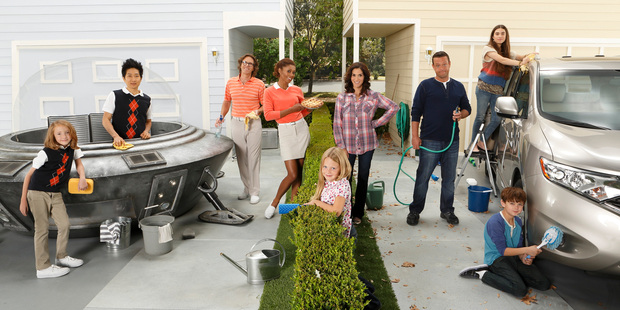 The latest US sitcom about aliens secretly living on earth follows in the footsteps of 3rd Rock from the Sun, ALF, Mork and Mindy and My Favorite Martian. ABC would have us believe The Neighbors offers a fresh take on this sci-fi premise: because the humans, not the aliens, are the outsiders.
In Wednesday night's premiere, Marty Weaver (Lenny Venito), wife Debbie (Jami Gertz) and their three kids move to Hidden Hills, a gated community complete with golf course and unusual residents. All named after sports stars, their neighbours are preppy geeks who wear matching polo shirts and look like they're auditioning for a synchronised-walking competition.
Well, that's their human form. They're unmasked as aliens after a strange boy called Dick Butkiss morphs into his natural form - a scaly, slimy green creature - to impress the Weaver kids. With the jig up, alien leader Larry Bird (Simon Templeman) and wife Jackie Joyner-Kersee (Toks Olagundoye) explain that 10 years ago they were deployed by home planet Zabvron to scout out possible planetary homes post-climate change. They brought a globe-shaped communications device called The Pooper but can't contact home because they forgot the charger.
This gag is one of many to fall flat. The actors are trying hard, but the material just isn't funny or credible.
Sitcoms don't need to be realistic, but a little plausibility would be nice. It might take more than a day for Marty and Debbie to go from screaming and contemplating alerting Obama to being best buds with Larry and Jackie. But it seems marital tensions trump terror. The "women" bond over their slobs of husbands and the "men" bond over beer and henpecking wives in the alien spaceship. So far, Marty and Debbie are stock characters.
He's the well-meaning but clueless husband; she's the roost-ruling wife who silences him with a glare.
When Larry tells the Weavers they have a lot to learn from one another, that's the show's set-up: confusion and misunderstandings followed by lessons learned and ending with syrupy sweetness. Confusion will come from the aliens' reactions to humans' strange practices, such as Halloween trick-or-treating.
Hopefully by now, the quality-control equivalent to Mad Men's Don Draper has stormed into the writers' room with a red pen. Come on, after 10 years here, advanced aliens would know how to operate a hose and a hedge-cutter, and wouldn't throw dirty plates out the window.
The Neighbors, Wednesday, 8pm, TV2.