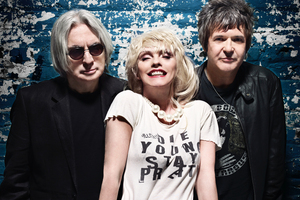 American band Blondie have recorded a song written for them by New Zealand musician Matt Barus and look set to release the track soon.
Barus is the frontman for Christchurch band Dukes, who supported the veteran New Wave act fronted by Debbie Harry on their three-date tour of New Zealand in 2010.
The band impressed Debbie Harry and Blondie co-founder and guitarist Chris Stein with their bold, energetic pop-rock songs. Stein asked Barus if he would write a couple of songs for the band.
"I said sure, thinking 'yeah, cool, lots of people say nice things to you in the music industry'. But I went off and wrote a couple of songs and emailed them to him anyway, really rough demo versions, and I didn't hear from him for about a year.
"And then he started emailing back saying, 'we're starting to record some new tracks, and we're interested in using one of your songs'."
During an interview by a UK newspaper this week, Harry sang the chorus of Drag You Around to the interviewer, who described it as a "toe-tapper".
"It's quite daunting in a funny way. I can't believe she sang it in an interview, it's a bit embarrassing - I mean you think, 'it's Blondie, they write great songs, what are they doing with one of mine?"'
Barus considered what type of sound they would want for their next album. "I went back to Parallel Lines, my favourite Blondie album, and listened to that loads, that angular guitar sound ... and then I just tried to get inside the head of a woman in her 60s who's a rock star," he said.