Director brings great clarity to Shakespeare's complex drama, with all-male cast filling demanding roles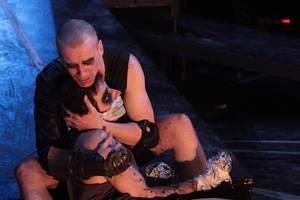 It is never difficult to find contemporary events that point to the relevance of Titus Andronicus, but Shakespeare's reflections on the extremes of human cruelty are given particular poignancy by the recent murder of a young soldier on a London street.
The play is filled with murder, rape, mutilation and cannibalism, but the production by Unitec graduates avoids any gratuitous violence and builds an almost overwhelming identification with the victims.
The script has been skilfully truncated to a harrowing 90 minutes that brings great clarity to the convoluted narrative while preserving the extraordinary power of Shakespeare's language.
Director Benjamin Henson achieves a boldly theatrical staging with inventive stylisation of the violence that allows for emotional distancing and encourages reflection on the depth of human depravity.
Mask is used with great subtlety and the grungy design conjures the dissolute chaos of a world devoid of boundaries, though for me the hip-hop-infused score added little.
The young, all-male cast do a marvellous job with tremendously demanding roles - most notable in Paul Lewis' commanding performance as Titus Andronicus.
He expresses the ineffable grief of a father who has seen his daughter subjected to the most appalling brutality and amusingly flirts with madness before revelling in the short-lived ecstasies of a righteous avenger.
Cross-gender casting is effective in the compelling physicality that Eli Matthewson brings to Lavinia's victimisation but seems less appropriate for Goth Queen Tamora who requires explicitly feminine wiles in the manipulation of her all powerful husband.
There are a few awkward moments when the cast struggles with the intensity of the drama but these are easily overlooked as we are swept up in a thrilling engagement with complexity and pathos for Shakespeare's vision.
What: Titus
Where: Q Theatre, Loft to June 8