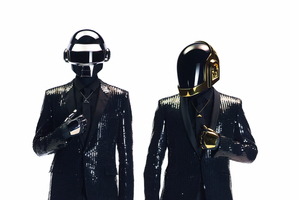 French duo Daft Punk have scored their first US number one album thanks to almost 340,000 first-week sales of new release Random Access Memories.
The Get Lucky stars lead a quartet of artists debuting new albums at the top of the Billboard 200.
Darius Rucker's True Believers, The National's Trouble Will Find and Excuse My French by French Montana enter the countdown at numbers two, three and four, respectively, but the sales figures of all three together don't match up to Daft Punk's haul.
The soundtrack to The Great Gatsby rounds out the new top five at five.
Daft Punk's new album set a record on Spotify last week, with the biggest number of streams in its first week in the United States.
Spotify wouldn't release the number of streams, but Daft Punk beat the eight million streams Mumford & Sons set with Babel last year.
Random Access Memories, which was launched officially in the NSW town of Wee Waa, is the fourth album from the Grammy-winning French group.
- WENN