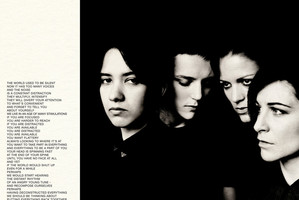 On the surface, Silence Yourself is the sound of just another band creating a dark and glowering post-punk racket.
However, unlike many of the lads who are churning out this post-punk revival music these days - yes, that's you Editors and Interpol - these four London women lay into the songs in the way songs of this ilk are meant to be laid into. It's an approach that's best summed up by their band name. This debut is savage, powerful and impressive.
Though the squally caustic guitar lines and primal and propulsive rhythm section are the driving force, it's singer Jehnny Beth's voice that takes these 11 tracks to a dangerous level. She makes for unnerving listening as she conjures up a yowl that sits somewhere between Siouxsie Sioux, Kristin Hersh from Throwing Muses, and the deadpan dissonance of Sonic Youth's Kim Gordon.
But it's not an all-out sonic assault, with centrepieces Waiting For a Sign and Dead Nature creating a deliciously harrowing atmosphere.
However, what makes this one of the most thrilling and bruising albums of the year is the way a song like She Will gallops and rumbles along to a riotous end, or the straight-up punk of No Face is very much like getting a punch in the face.
Stars: 4.5/5
Verdict: Post-punk the way it should be played
Click here to buy Silence Yourself.
- TimeOut