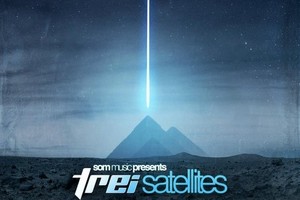 Pound your chest, slap your cheeks and get ready for dancefloor combat because Satellites is the sort of music that will psych you up for the big game.
It's the Wellington drum 'n' bass exponent's follow up to 2009's excellent Innuendo, an album that took the listener to a higher plane as it let rip with fresh and lively beats. If anything, this time round, Trei has moved into a slightly more accessible direction, but in a good way, since it remains staunchly energised and anthemic. Opener Change Your Mind builds ambiently before exploding into agitating drum 'n' bass territory, complete with quickfire breakdowns that smash into shards, and guest vocalist Thomas Oliver spitting and cussing over the top. Then, on a more tranquil note, he soars soothingly on Running, a gently thudding excursion into deep house, and MC Tali does a rousing vocal turn to accompany the simmer and flex of Homecoming.
There are also moments of unbridled beat slaughter, like on Crossroads (featuring the Upbeats), which starts with a synth strain akin to Concord Dawn's Morning Light before ramping up into a scything trance, and then into the shriek and pummel of Swingers.
It really is an album where all you have to do is put your head down and go hard.
Stars: 4/5
Verdict: Dance music to win a test match by
Click here to buy Satellites by Trei.
- TimeOut