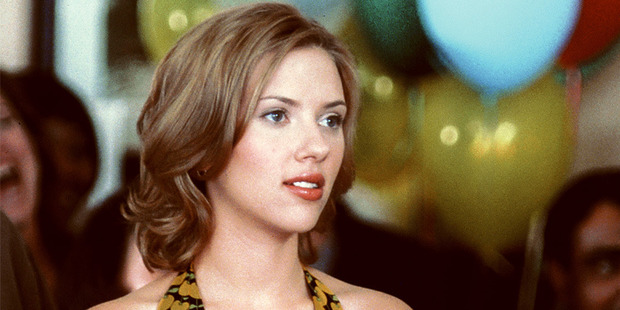 What do Scarlett Johansson, Reese Witherspoon, Jessica Chastain, and Amanda Seyfried have in common?
According to The Independent, the Hollywood leading ladies are all being considered to play former First Lady and US Secretary of State Hillary Clinton (nee Rodham) in the upcoming biopic, Rodham.
The film, which is currently in the early stages of development, will focus on Clinton's time as a House Judiciary Committee lawyer in her twenties, and her relationship with future husband Bill.
Its synopsis reads: "During the height of the Watergate scandal, rising star Hillary Rodham is the youngest lawyer chosen for the house judiciary committee to impeach Nixon, but she soon finds herself forced to choose between a destined path to the White House and her unresolved feelings for Bill Clinton, her former boyfriend who now teaches law in Arkansas."
The drama, penned by screenwriter Young Il Kim, was included on 2012's Black List of the best unproduced screenplays in Hollywood. Past titles have included Slumdog Millionaire and The King's Speech.
Speaking to Politico about the project in February, Kim Said: "There's this incredible irony that she worked on the impeachment process that was used against her husband."
Kim continued: "But it's also really a journey of a woman who was torn between her personal desires and her professional ambition - both literally pulled her thousands of miles apart, because Bill did not want to leave Arkansas, and she did not want to leave Washington, DC."
'I DIDN'T WRITE 50 SHADES OF RODHAM'
What was purported to be an early draft of the script was procured by The Daily Beast earlier this month.
The website's summary of the screenplay's "juiciest bits" included mention of a steamy love scene between Hillary and Bill, during which the young couple try to "devour each other", but their tryst is rudely interrupted by a wittering answering machine.
The excerpt swiftly set tongues wagging that the script would linger on the couple's bedroom antics.
Not so, chimed Kim to The Daily Telegraph.
"I didn't write 50 Shades of Rodham as some news outlets are suggesting," he told the newspaper. "I am a boring prude with little imagination."
Inquiring minds over at the newspaper also wanted to know whether the final draft would include sex scenes.
"It's an evolving process so I don't know," he replied. "She was an attractive 26-year-old with an amazing future. And that's our thematic focus."
Per The Wrap back in April, industry executives who've thumbed through the script claimed it "offers a potentially award-worthy role for one lucky ingénue".
The website also noted that "several top actresses" have expressed interest in the project, but that no casting decisions have been made.
But if The independent's latest report is on the money, James Ponsoldt (director of the forthcoming comedy-drama The Spectacular Now) won't be short of A-list talent to fill the coveted role.
The website claims that Witherspoon, Johansson, Seyfried and Chastain are all being considered to play Clinton.
"They're all wonderful actresses," Ponsoldt, who was revealed as the movie's director last month, apparently told the paper. "We're very fortunate that a lot of really great actors are interested in playing these roles. We're in an enviable position."
He added: "Regardless of people's political affiliation or how they feel about Hillary Clinton, you don't find people who question the quality of her intelligence or her drive.
"I want a wonderful actress who could embody that."
Word is the movie is being primed for release in time for release in 2006 - just in time for Clinton's mooted presidential run.
Reps for all four ladies have yet to comment on the report.
Watch this space.
NOTABLE NUGGETS
And finally ...
* Leonardo DiCaprio to direct? "I've been talking about [directing] a lot," the actor tells the new issue of GQ Australia. "But I'm still not sure I'm going to do it. When you're a director you have so many different elements you need to be in control of."
* Hulk Hogan seriously burns hand in radiator accident, shares gruesome photos (Warning: Not for the squeamish).
* Chris Brown didn't give woman false information in fender bender, says rep.
* Katy Perry, John Mayer reunite two months after split. So where does this leave poor Robert Pattinson?
* Paul McCartney visits Graceland, leaves guitar pick "so Elvis can play in heaven".
* Christopher Lee drops heavy metal album on his 91st birthday.
* Cynthia Nixon was less than enamoured by certain aspects of the first Sex and The City movie.
* Will Smith should probably stick to movies.
* Title of new Bridget Jones novel revealed.
* "No more schoolboy stuff. A cameo as Harry's dad? That would be perfect!" - Daniel Radcliffe would happily make a cameo appearance as Harry Potter's dad in any forthcoming movie.
* Courtney Love tells Amanda Bynes to "pull it together dude". You know how this one goes ...
* "I will have you escorted out right now, all right?" - Beyonce disciplines unruly fan after he slaps singer's butt during concert.
* Listen: Kylie unveils new track Skirt to celebrate 45th birthday.
- Rumour Has It