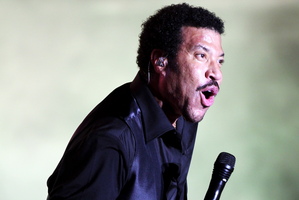 Historically, Iran and Iraq have had their differences. But both nations are united in rapture over the love songs of Lionel Richie, to the astonishment of the soul legend.
Over the past decade, the Hello singer has become a phenomenon across the Arab world. Iraqis blasted out All Night Long on the night in 2003 when US tanks invaded Baghdad.
In the Kurdistan city of Erbil, authors read their poetry to interpretations of songs by Richie at a literary festival held this year, designed to bring Arabic, Kurdish and British writers together.
His popularity extends from Iran to Libya, where Richie performed for Colonel Muammar Gaddafi, and the Gulf states, where Saudi royals frequently invite the star to sing.
"This is probably the most fascinating experience of my career," the artist, who has sold 100 million records, told the Independent.
Richie, 63, believes a universal message is the key. "It's a region that has an amount of restrictions in how much you can say but it comes down to 'I love you'.
That crosses every border. It's a part of everyone's life."
The former Commodores star would like to play a show in Baghdad. "The region is opening up and they really want me to come there. It makes me very proud."
Richie was paid US$250,000 ($309,000) to sing for Prince Azim, the son of the Sultan of Brunei. He was criticised for appearing at a 2006 concert in Tripoli with Gaddafi marking 20 years since the US bombings on Tripoli and Benghazi.
Richie described the concert as a "peace" event, honouring the death of Gaddafi's adopted daughter, Hanna.
But he cannot dictate how his songs are used. An elevator version of Hello formed the backdrop to an oil and gas auction in Baghdad, staged in front of an honour guard carrying Kalashnikov rifles. Independent