TimeOut games guy Troy Rawhiti-Forbes heads to Seattle to see Microsoft unveil its next-generation Xbox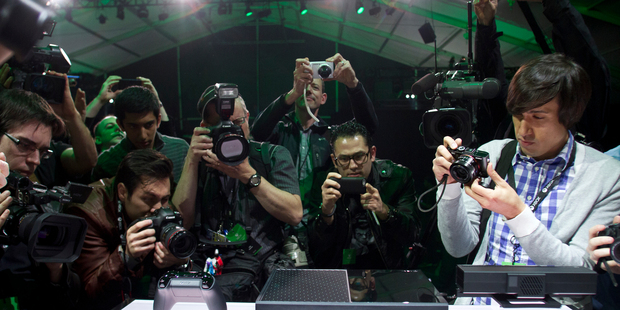 The Xbox campus, situated within Microsoft's sprawling headquarters in a tree-laden suburb not far from downtown Seattle, is a village all of its own. It has a restaurant, a bar, a range of food vendors, plus lifestyle apparel and gear shops. If you can name it, they've probably got it.
I stepped into an onsite music shop to see if I could fulfil a lifelong wish of buying a Nirvana LP in Seattle, until I realised it was a serious music shop selling serious musical instruments.
The work-life balance clearly matters to the Xbox team. That is fair enough, considering the legendary gloomy weather in Seattle. It seems to me like the perfect place to develop and announce the future of stay-inside-and-avoid-the-inclement-weather entertainment.
The makers of the Xbox One, to be released before the end of the year, claim it won't replace the existing Xbox 360, but it will provide the platform for the future of home entertainment.
The new console will include an updated version of the Kinect motion sensor that will work alongside a redesigned wireless controller as a primary interface device - and a scarily intelligent one at that. If you go hunting through my archive on Instagram (TroyRF), you'll find a detailed rendering of my gawking visage as displayed by the new camera. (Then, please, forget you ever saw it.) After last week's global unveiling of Xbox One, TimeOut was escorted on a tour of the multimillion-dollar dream factory where the new console was developed and where it is still undergoing fine-tuning before its eventual release.
In one room, the sound of rapid percussion shook the jetlag out of my system. Accessories team leader Bob Brown, a former US Air Force engineer, proudly showed off a rack loaded up with around 20 Xbox One controllers, each button and trigger being jackhammered repeatedly by robotic fingers. Over three days, each button would be abused up to two million times. Nearby, a robotic arm simulated a gamer's motions, testing the effect of g-forces on button sensitivity.
The controller itself is flatter and wider than its predecessor, and the internal motors that cause it to shake in response to game actions have been revamped so you will feel motion in the triggers, where your fingers' own sensitive pads are ready to make the most of it.
The improved vibration took some getting used to, and it felt like a tangible version of stereo sound. In a series of tests, I detected light and heavy motion that shifted from left to right and back again. The potential is quite deep - you could perhaps feel, for instance, a ball thudding into your hands during a tight Ashes cricket contest. The door is open for developers to work those goodies out.
The nerve centre for Xbox Live - the online community where the multiplayer and multimedia magic happens - looked like the stereotypical Nasa mission control room. Inside there was row upon row of computer banks, a centrally viewed wall full of monitors, and seven or eight specialists who sat ready to dive in and take action.
The quality assurance of hundreds of thousands of people's online gaming is typically monitored by a small team that looks like an average university study group. Although achievements were being unlocked around the world, my illusions were being shattered before my eyes. Well, as long as they keep it working, that's fine with me.
After taking the lab tour, I sat down with Marc Whitten, general manager of Xbox Live, to pass on concerns Kiwi gamers had expressed after the announcement, which was heavy on the US cable TV and movie options but suspiciously light on information about new games. Not only that, but existing Xbox 360 games won't work on the Xbox One. Why, Marc?
"It's very different than the last generation, when backwards compatibility was a bit more important," Whitten explained.
"I think people are going to continue to buy games on the Xbox 360 but at the same time, we wanted to build amazing new experiences that are Xbox One specific. They just didn't overlap in a way that allowed us to be backwards compatible."
Whitten said his team was committed to working within each TV market to make the existing offerings work on Xbox One.
"TV is very complex around the world," he said.
"I actually think terrestrial broadcast is a really key one. I think it's something you'll see us put a lot of energy into."
Don Mattrick, head of Microsoft's interactive entertainment division, called for calm from gamers following the press conference and assured that Xbox's Electronic Entertainment Expo (E3) briefing would have a stronger focus on games.
Microsoft Studios developers are working on 15 upcoming games, eight of which are said to be all-new titles, while third parties have been quick to confirm their seats at the next-generation table. EA Sports announced its new Ignite game engine, which aims to do for the Fifa, Madden, NBA, and UFC franchises what a $6 million makeover did for Steve Austin, and Ubisoft's upcoming stunner Watch-Dogs will feature as well.
Whitten laughed when I suggested the miserable climate might be the reason his team has been successful in helping others make the most of staying indoors.
"I told Don he should have opened up by saying, 'Hey, we're glad we could bring the Seattle experience: a little rain - this is how we get the performance out of the team. They may as well stay inside and code'."
With Sony's PlayStation 4 also emerging from behind the shadows this year, E3 2013 is shaping up to be the biggest event of its kind in almost a decade. The stage is set for an almighty showdown.
* Troy Rawhiti-Forbes travelled to the United States courtesy of Xbox.