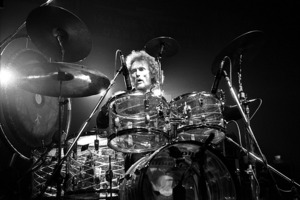 Former Cream star Ginger Baker is struggling to carry on drumming as he battles a degenerative spine condition because playing leaves him in "agony".
The musician was diagnosed with osteoarthritis of the spine several years ago, but revealed last year he had been forced to continue touring because of financial problems.
However, Baker, who also suffers with lung condition chronic obstructive pulmonary disease (COPD), admits he often finds it hard to play the instrument.
He tells Britain's Daily Mirror: "Sometimes, I wonder if the pain is God's way of punishing me. To be in constant pain but not terminally ill. Drumming is agony.
"I just think about putting a grenade in my back. I also have COPD, a lung condition. I find smoking helps with the pain of the arthritis. But it is killing my chest."
- WENN