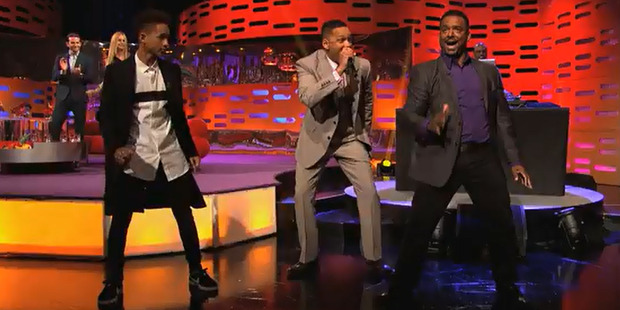 The last time Will Smith swung by the BBC's Graham Norton Show, he led the studio audience in an impromptu performance of the titular theme song from The Fresh Prince of Bel-Air.
For his encore, Smith senior had a little help.
When Norton asked Smith (who was on the show with his 14-year-old son Jaden on Friday) if the father-and-son duo ever perform music together, the pair grabbed a couple of microphones and once again resurrected the classic track.
"Last time I was here I did my Fresh Prince rap," chimed Smith. "Eight million YouTube hits was on that."
When he appeared on the show in May 2012, Smith, accompanied by Take That's Gary Barlow, led the entire audience in a rendition of the theme song.
"I can see your face, you're like, 'What has he left?'" Smith added, at which point he introduced his original sidekick, DJ Jazzy Jeff, who hopped on the turntables.
Smith and his son then launched into a remixed rendition of the Fresh Prince track, as fellow episode guests Bradley Cooper and Heather Graham bopped along in the background.
"You liked that," said Smith. "Well hold up Graham my man, I'm not through, one more little surprise just for you."
The actor then introduced a very special guest - Fresh Prince co-star Alfonso Ribeiro (better known as Smith's onscreen cousin Carlton Banks in the classic sitcom) - who proceeded to bust out his alter ego's signature cheesy dance moves to a cover of Tom Jones's It's Not Unusual.
Norton later got in on the action, and joined the trio as they grooved to The Sugar Hill Gang's Apache (Jump On It).
Check out the televisual gold below:
NOTABLE NUGGETS
And finally ...
* All a-twitter: Amanda Bynes claims she was "sexually harassed" by police officer during arrest.
* Kim Kardashian lashes out at paparazzi: "Shut the f***ing door, you idiots!"
* Hello, sailor! Leonardo DiCaprio's boat in Cannes is well-stocked with the ladies.
* Hold the phone: Jennifer Aniston and Brad Pitt are actually "very good friends," says actor's pal.
* Hang on, did Jimmy Kimmel really buy that topless Bea Arthur painting?
* Ashton Kutcher on Twitter: "Media kind of f***ed it up".
* Morgan Freeman says he was testing Google Eyelids, not sleeping during TV interview.
* Email warned of Michael Jackson's waning health, court told.
* Charlie Sheen changes name back to Carlos Estevez for new movie Machete Kills.
* Show us how you really feel, Kristen Stewart.
- Rumour Has It