While everyone swoons over the new Daft Punk album, Chris Schulz revisits eccentric German electro pioneers Kraftwerk.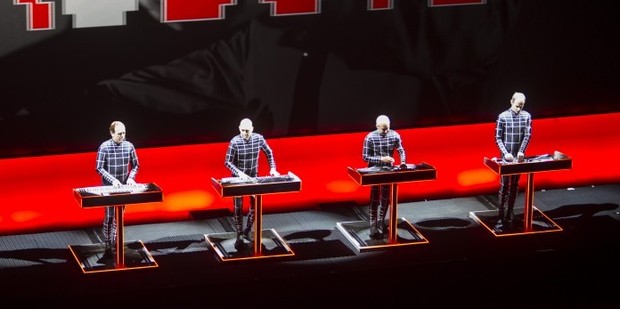 Crazy outfits. Check. A mysterious, reclusive vibe. Check. Songs full of minimalist robo-funk boogie. Check. Occasional future-synth disco flourishes. Yep, check that one off the list as well.
But we're not talking about the new Daft Punk album, Random Access Memories, an epic electronica trip spanning multiple genres that is rightly receiving rave reviews by everyone with a set of ears and an internet connection.
We're talking about Kraftwerk, the reclusive German quartet now into their fifth decade with 10 albums of original, pioneering electronica behind them, most of which are being performed during their four-night run at the Sydney Opera House as part of the city's Vivid festival.
That's two albums a night, each followed by a set of greatest hits and occasional encores, accompanied by Tron-inspired neon outfits and 3D visuals comprising the band's sparse, iconic imagery.
It's the perfect time to reappraise the legacy of the eccentric foursome - even if they have just one original band member left in the line-up, front man Ralf Hütter - because watching them perform songs from their extensive musical back catalogue is like having the blueprints for the history of music laid out in front of you.
Wondering where the Chemical Brothers got their computerised bleep-rave sound from? Check out Numbers from 1981's Computer Love. Love '80s pop? Go listen to 1978 single The Model and see if you hear any similarities.
Chart-topping superstars like Rihanna and Katy Perry owe Kraftwerk a nod for using their synth-heavy sound from songs like Music Non Stop (1986). Even Trent Reznor's industrialised gotchic stomp can be found during some of their more intense moments.
They're even credited in some quarters for inventing hip-hop. It's easy to see why on the boom-rap thud of a track like Boing Boom Tschak.
The Kraftwerk live experience is like watching the past, present and future of music rolled into one giant jukebox, so it's easy to forget that their songs are up to 40 years old. As one fan was raving outside the venue: "It's all still so relevent."
But Kraftwerk seem to realise that they're now getting their dues. The Opera House shows - based on a series of similar album showcases at London's Tate Modern - sold out through a balloting system in minutes, and they rightly received a standing ovation after Saturday Night's Trans-Europe Express show.
In the past they've barely moved at concerts. During their performance in New Zealand in the Big Day Out's Boiler Room in 2003, they stood so still just the twitch of an elbow would see the crowd erupt. Man machine indeed.
But they let their hair all the way down in Sydney, swaying and nodding in time to their tunes, sort-of dancing during encores, and even allowing small smiles to cross their faces during courteous farewell bows. Good on them. They deserve it.
Yes, we should hail Daft Punk's achievements on their triumphant new album. But next time you schedule it up on your iPod, it might be worth remembering exactly where all those random access memories came from.
* Kraftwerk perform Computer World (1981) and Techno Pop (1986) at the Sydney Opera House tonight.
-Chris Schulz travelled to Sydney courtesy of Destination NSW.