Violinist James Ehnes performs one of the composer's longest works.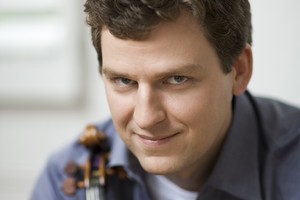 Violinist James Ehnes may be based in Florida, but he is still a fervent Canadian at heart. Even if, on his recent Huffington Post blog, he enjoys outlining some of the quirkier traits of this "Land of Hockey, Beer and Back Bacon".
"There's a definite shift of priorities with Canadians," is his more measured response when I ask about coming from north of the 49th Parallel. "We tend to be a very proud people with a shared passion for nature and a certain kind of fairness in society."
He breaks off, suspecting perhaps that this all sounds a little earnest. American culture is inevitable worldwide, he says, mentioning that the golden arches of Canada's McDonald's restaurants feature a small maple leaf on the middle of the "M".
"It's like saying, this is not McDonald's but Canadian McDonald's," he laughs. "But you're not fooling anyone."
Ehnes is making his third appearance with Auckland Philharmonia Orchestra, playing Elgar's Violin Concerto on Thursday. His 2007 recording of the work earned him one of his seven Juno Awards back in Canada - and it is not the only major concerto on his 2013 schedule.
"I enjoy mixing it up," he explains. "It keeps me inspired and kind of sharp, and makes me feel that the piece I'm playing this week is the one that, above all, I'd like to play."
He has fond memories of making the Elgar CD. "We were able to take the piece on tour, give it seven or eight performances, then record it. The orchestra had the music in its blood and the conductor was just eating and breathing Elgar."
This 1910 masterpiece is a score that has "room for change from night to night ... working within the overall structure, you can still be very flexible with the many details along the way."
On Thursday he is playing under the Scottish Garry Walker on the podium, one of four conductors with whom he has shared the concerto this year. He enjoyed working with Walker in California earlier this year and relishes the changes a new colleague can inspire. "It's like playing poker with someone who's already shown you his hand," he explains. "You know what his intentions are from the way he shapes the opening tune."
Elgar's piece, running at just under an hour, is one of his longest. Inevitably, the issue of stamina comes up. Ehnes cannot resist putting it alongside the Brahms concerto, where "you really need something in reserve after that enormous first movement, which is a world all of its own".
"The first time I played the Brahms, I was worried, after the first movement, whether there was anything left in the tank. With Elgar, the last movement is the hardest to keep focused and part of its beauty is that it wanders here and there. Then there's that incredible cadenza about 42 minutes into the piece. If you lose the audience there, it's like all of what has gone before loses its meaning. It's so crucial to have that mental concentration."
There is simply too much to talk about, including his new recording of Britten and Shostakovich with the Bournemouth Symphony Orchestra under Kirill Karabits, who guested with the APO a few years back.
Ehnes is looking forward to this year's Michael Hill International Violin Competition. Not only is he on the judges' panel, but Aucklanders will be able to experience a masterclass led by him during the competition week.
Ehnes likes being in touch with "what the young people are up to", trusting that this coming together might "plant a seed and get some young musicians to think about a particular way that might have profound benefits later on. It really is a shared art."


Performance
What: Auckland Philharmonia Orchestra
Where and when: Auckland Town Hall, Thursday at 8pm
What: James Ehnes Masterclass
Where and when: University of Auckland Music Theatre, 6 Symonds St, Thursday June 6, 1.30-3.30pm
On disc: James Ehnes plays Britten and Shostakovich Concertos (Onyx, through Ode Records)
Blog: huffingtonpost.com/james-ehnes