People and places receive down-to-earth treatment in some thought-provoking videos and photos in the Auckland Triennial.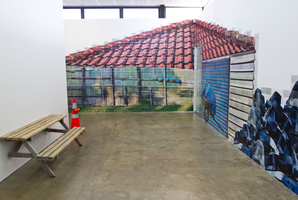 One way to link with the Triennial and its theme of If You Were to Live Here is to visit Artspace, which has been reconfigured to accommodate videos, installations and photographs. All the artists concentrate on contemporary places and people.
The most notable work is an hour-long feature documentary by Allan Sekula and Noel Burch, about transporting heavy freight and its influence on the environment. It includes an interesting interview with a Dutch captain of a barge who believes heavy freight should travel by water.
This leads to footage of a freight-only railway line in Holland that slashes across the countryside. Houses and orchards had to be sacrificed. The liveliest scenes are of Polish women picking apples in one of the remaining orchards. The visual quality of this documentary, where the shots of fruit-picking contrast with images of the mighty engines of container ships that consume the crudest oil, makes an important statement.
The other video works are shorter. Angelica Mesiti emphasises how relocated people retain the inescapable essence of their origin in her studies of four exiled people. One shows a woman from the Cameroons beating the water of an indoor swimming pool in a dynamic drum rhythm from her home.
A third video, by Cynthia Marcelle, a Brazilian film-maker, finds intriguing patterns of traffic as she shoots from high above a section of motorway. Bizarrely, at one stage everybody has to get out and push their car. There is no explanation for this activity but it is truly strange.
An installation by local artist Janet Lilo depicts a multicultural Auckland neighbourhood. Big colour photographs recreate the fence that surrounds a property, with garden furniture and glimpses of activity on video. Add to this a project by Bruno Serralongue, who has been documenting life in Kosovo for 10 years since the fighting in the former Yugoslavia in the 1990s, and a similar project by Yto Barrada about Tangier. These complete an international show full of documentary interest about people and places which allows some poignant issues to emerge by avoiding any note of high drama.
Visitors to this Triennial show should duck across the road to see, on the last day of the exhibition at Ivan Anthony Gallery, Liz Maw's astonishing and delightful painting called Pandora Rides the Noon Day Demon, an arresting nude in a bright red roadster, circa 1910. More in keeping with the Triennial, but not officially part of it, is Bazinga! at Starkwhite, curated by former Aucklander Robert Leonard. The exclamation "bazinga" is special to Dr Sheldon Cooper from the popular TV show The Big Bang Theory. Most of the works have a strong, geeky electronic component. Dominating the gallery is a big wall work by Rebecca Baumann, full of fluttering unpredictable changes. The changes are on an array of 96 mechanisms loaded with thousands of cards in different shades of blue. They continually flip so the whole work makes unpredictable patterns, which inescapably suggest both falling leaves and airport signs. Another machine, Human Needs Meter, by Antoinette J. Citizen, suggests a way of plugging into human needs such as energy, hygiene and fun like a computer game. It is a slack demonstration lacking energy.
The way a human can convert herself into a machine is intriguingly demonstrated in videos of Danielle Freakley, who calls herself The Quote Generator. For periods of time she communicated only in quotations, adding their source. It is an intriguing document humorously sublimating what some English teachers are irritatingly prone to do.
Two stalwarts of the New Zealand scene contribute to a vivid show called Abstract Reunion at Artis Gallery. Forty-five years ago two friends from art school, Roy Good and J.S. Parker, had their first exhibitions at the Vulcan Gallery in Auckland. Their recent work is gathered here and shows both painters have consistently worked in minimal abstraction at a high level of achievement.
Their differences lie in texture. The surfaces of Good's paintings are immaculate fields of colour linked and balanced, chiming and rhyming. A feature is the use of shaped canvases rather than rectangles. His work has a lyrical quality seen notably in a painting called Plain Song, part of a series, Hymns to Light. Paintings like this have a classical poise and stillness.
What both artists do well is allow underpainting to show through and enliven the surface. Parker does this energetically. His sweeps of paint are rhythmically laid on with a palette knife. The areas are divided by strong horizontals so each painting becomes a created landscape of rippling colour, referencing the plains and horizons.

At the galleries
What: 5th Auckland Triennial
Where and when: Artspace, 300 K Rd, to July 13
TJ says: A show of photographs and videos from international sources plus a New Zealander investigates people and places.
What: Pandora Rides the Noon Day Demon by Liz Maw
Where and when: Ivan Anthony Gallery, 301 K Rd, to May 25
TJ says: Liz Maw has one of her startling large paintings mixed with smaller less memorable ones.
What: Bazinga: various Australian artists
Where and when: Starkwhite, 510 Karangahape Rd, to June 8
TJ says: A lively collection of videos, mechanisms and performances, all with a special geeky quality, curated by Robert Leonard.
What: Abstract Reunion: paintings by Roy Good and J.S. Parker
Where and when: Artis Gallery, 280 Parnell Rd, to June 2
TJ says: Two veteran, highly esteemed painters working in abstraction, one with classical poise and colour, the other with agitated, rhythmically worked surface texture.