Two Greek tragedies and Shakespeare's bloody Titus tell compellling stories, writes Dionne Christian.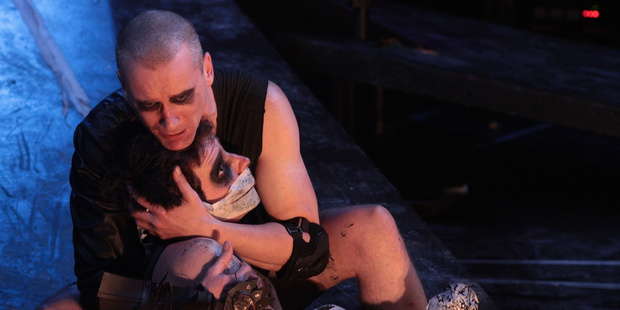 It might be big-budget escapades like Game of Thrones and The Hobbit fuelling a renewed interest in epic stories, or it may simply be a new generation discovering tales which have shaped western culture; whatever the reasons, fans of the classics are in for a treat.
Two seldom seen Greek plays, Oedipus the King and The Odyssey, plus Shakespeare's Titus, inspired by Ancient Rome, get a modern makeover thanks to three youthful theatre companies, with no qualms about taking liberties with traditional texts to grow new audiences and push theatrical limits.
First to the stage is the University of Auckland's drama club Stage Two's Oedipus the King. A cast of 19 appear in this rendition of Sophocles' story, which director James Wenley describes as a brilliant mystery/detective story, even though most people know its tragic ending. He says the narrative structure makes the drama fascinating and, given Auckland has not seen Greek tragedies on stage for a while, it was time to tell it.
"These stories never get old; the myth of Oedipus is central to Western culture. One reason it has endured is because it's a very compelling story, but also it's got ideas like the nature of fate and suffering and taboos, which continue to fascinate and revolt us.
"It gets down to those big questions that don't go away. How much control do we have over our lives? Can we change our fate? We need to keep performing these classics; they connect with a history much larger than ourselves as individuals. The depiction of a plague-ridden Thebes in disintegration reflects contemporary anxieties about economic ruin, natural disaster and pandemic diseases - it's easy to find relevance."
Titus director Benjamin Henson agrees. He believes Shakespeare's first tragedy is about the futility of war and revenge and the necessity to find what unites rather than divides us. He says Titus fell out of favour during the Victorian era, partly because its liberal use of graphic violence was deemed offensive, but the play is now performed more often.
"Probably because we know people are capable of the kind of acts committed in the play - it's sadly not unrealistic - but we don't seem to learn or break this cycle of violence."
This retelling of Titus started as a Unitec performance in which a group of students, under Henson's direction, created an all-male version of the fictional story. It sold out and helped theatre company Fractious Tash secure a place on Q Theatre's inaugural Q Presents, a joint venture of the theatre and emerging independent companies wanting to stage "bold works".
Henson describes the production as "Shakespeare on acid" but says it's almost obligatory for each generation to re-imagine the classics so they stay relevant. They have cut the work to 90 minutes and set it in a timeless barren wasteland where a tribe of scavengers hunt for detritus to help them tell the story of General Titus who is locked in a bloody cycle of revenge with Tamora, Queen of the Goths. Billy T Award 2013 comedy nominee Eli Mathewson takes one of the female roles.
"We didn't focus on the gender of the characters until after we'd explored thoroughly the story and what drives the characters as people rather than men and women."
Similarly, Odyssey co-directors Laurel Devenie and Katy Maudlin encouraged the 22 cast members, aged 8-18 and many from Northland Youth Theatre, to explore the characters and story before assigning specific roles for its first season, performed outdoors in an abandoned Whangarei quarry. Giant Collective's Auckland season remounts Odyssey in an indoor setting, with eight of the previous cast and crew joining a new group of local teenagers and primary schoolchildren. Devenie and Maudlin say they are determined to maintain the epic feel - with a gutted van which the cast drag around to represent hero Odysseus' boat.
They worked to find elements of Homer's epic poem which would most appeal to a contemporary audience. Its themes of human dilemma, the effects of war, destiny, family and the spiritual connection of home came through most strongly.
"Odysseus' son, Telemachus, has grown up without a father, so he goes on his own journey to discover his history, to find his father and to find himself, so that's about feeling lost," says Devenie. "That's very human and I think most of us can relate to feeling like that at various points in our lives."


Performance
What: Oedipus the King
Where and when: Centennial Theatre, Auckland Grammar School, May 30-June 1
What: Titus
Where and when: Q Loft, May 29-June 8
What: The Odyssey
Where & when: Tapac, Western Springs, June 26-30