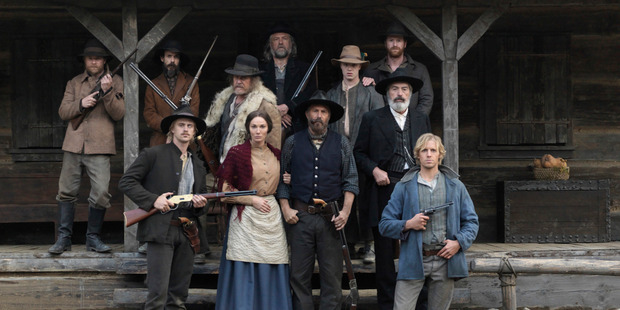 They say history's a great teacher. So you'd think Hatfields & McCoys, a three-part miniseries from the History channel, might offer important insights into a part of United States history. With Kevin Costner and Tom Berenger (both of whom won Emmys for their roles) starring alongside the Emmy-nominated Bill Paxton, it's guaranteed to be solid viewing, right?
For the most part that's true - if you can sit through all six hours of it. Hatfields & McCoys screened on three consecutive nights in the US. Here, SoHo has recognised our limited attention spans and spread it out over three weeks (Wednesdays at 8.30pm, with encores on Saturdays at 11pm).
It's a fine-looking, well-acted production that shows what life was like when men wore britches and said things like, "You's bein' quarrelsome", while personalising a tale known to most Americans. But six hours? That's a helluva lot of fightin', smokin', spittin', kissin', killin' and, it has to be said, mumblin', for what's a fairly repetitive story.
It's essentially a bromance in reverse. Randall (Paxton) and Devil Anse (Costner) were compadres during the Civil War, only Randall became incensed when Devil Anse defected, starting the long chain of events that led to the animosity between their families. Then there was a dispute over a dog, a pig, some land and its timber, and years later, by the time bad blood had really come to the boil, a Romeo and Juliet-style romance between their offspring, Rosanna and Johnse.
It's a seemingly never-ending eye-for-an-eye kind of feud that while well portrayed fails to compel beyond the excitement of watching men tear strips off one another. A pig is stolen, a man is sued, another man is killed, his death avenged, that pretty blonde couple is forced apart, and all the while, a whole lot of bushy-bearded folk shoot at one another - and on and on until it's almost unclear (as is often the case in a dispute) why the two factions disagreed in the first place.
You get the impression that if the women were in charge, none of this would have escalated like it did.
Part one covered a lot of ground but by the third act I was feeling weary, as though I'd sat through several episodes back to back. And part two - well, I'm still only part-way through it.
This is not to detract from the quality of the writing or production. The Romanian set looks and feels authentic, all brooding browns and greys, a sepia-toned grime that appears to coat everything from the saloon floors to the men's faces. The acting too is of a high standard, Costner playing Devil Anse with the brooding presence we've come to expect since Dances with Wolves and Paxton in equally husky-voiced mode as his friend-turned-adversary. The script is gritty and grungy, care of Ted Mann (who also co-wrote Deadwood), Ronald Parker and Bill Kerby.
But though the subject matter has been treated with the respect you'd expect for a drama of this ilk, this history lesson could've been told in half the time.
-TimeOut