Lydia Jenkin previews a classical concert seeking a new, wider audience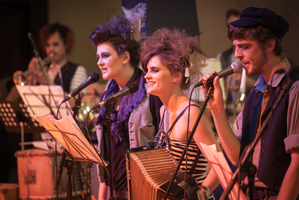 Classical concerts can be a bit intimidating as a new experience - the formal environment, the required silence, the length of the performance, the ticket prices. And if you're a young person who's never had much to do with classical music it can seem like an entirely foreign world.
Which is where The Blackbird Ensemble come in.
Helmed by accomplished multi-instrumentalist and composer Claire Cowan, they're a 24-piece group including singers, brass, wind, strings, banjo, accordion, electronics, percussion, and marimba. They create shows with atmospheric, theatrical elements, based around the works of living songwriters and composers - from Bjork to Nick Cave to Philip Glass, in the hope of opening up musical genres, and connecting orchestral music with new audiences.
"There's a bit of stigma and weirdness about classical concerts being boring and dry, and the funny thing is I often agree, that's why I don't always go to them, and why I wanted to do something myself, where I knew I would enjoy being an audience member," Cowan says.
With a background as an in-demand composer writing for film and TV (she scored the Billy T James biopic Billy), and creating works for the NZ Trio, Auckland Philharmonia, and New Zealand Symphony Orchestra, Cowan has all the skills required to arrange and orchestrate the works in an engaging manner.
But her work with artists such as The Adults, and Julia Deans, and performing as part of Carnival of Souls and occasionally Strike, also gives her the perspective of more contemporary, theatrical experiences, making her the perfect person to lead such a project - and probably why it has been successful so far.
Their first performance in 2010 was a series of Arvo Part works, performed at the Monte Cristo Room. Next they did a series of performances in 2011, entitled the Duino Elegies, everywhere from the Grey Lynn Library Hall, to the Ponsonby Cruising Club. It blended readings by Oliver Driver of Rilke's writing with songs about love and death by eclectic artists from Radiohead to Gareth Farr, in an earthy, dramatic fashion. And earlier this year, they performed at the opening of Q Theatre, as well as the Auckland Museum. Now they're presenting By The Sea at The Vic theatre in Devonport.
"I think what makes people come back is when they're actually moved, and they have an intimate, personal experience with the music. To really draw people into the world of orchestral music or classical music, they need a more close-up experience to start with, and having theatrical elements, bold visual elements that add an extra layer to the performance."
By The Sea originated when Queens Wharf asked them to do a show as part of the White Night arts event (though it was unfortunately rained-out on the night).
"I thought, cool, let's do something sea-themed, and I just searched through lots of different artists who had sea themed titles or lyrics or ideas to do with the water or wharves or sailing. In terms of the repertoire, obviously we don't just play classical music, we play arrangements of all sorts of contemporary pop artists - PJ Harvey, Portishead, Nina Simone.
"And Mark Michel, who does our electronic side, he's actually a sailor too, and he's recorded all sorts of noises out at sea, and made some beds from those sounds, and created some specific soundscapes that help to link the songs or pieces together."
The theme provided immediate inspiration for the setting and costuming too - there's life rings, and battered suitcases, the air of travel and adventure.
"I wanted to keep it kind of gritty, so we have dock workers and sailors and we've kept it pretty timeless but with some inspiration from the 30s, working class, but also the early Vogue stuff, which had a lot of nautical anchor motifs, and stripes, and the simple yet elegant approach."
The result is impressive. Provocative, memorable, and leaving many misconceptions about classical music at the door.
It's not so much about defining a genre or an audience, but presenting music in a refreshing way, one that's not often seen in Auckland.
Who: Claire Cowan
What: The Blackbird Ensemble present By The Sea
Where and when: Saturday, June 1 and Sunday, June 2 at The Vic Theatre, Devonport
-TimeOut