Yes, the two stars finally do get together and Nick Grant finds the storyline is all the better for it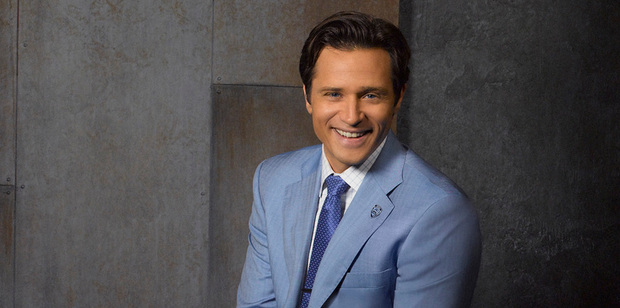 As last year's final episode of Castle came to a close, Nathan Fillion's eponymous mystery novelist/amateur sleuth was about to finally consummate his four-year flirtation with Stana Katic's Detective Kate Beckett.
So when season five starts tomorrow, will the long tease be over, with the two leads having done the deed, or are viewers in for yet more delayed gratification?
"I don't think it's too much of a spoiler to say that nobody wakes up to find it was all a dream," says Seamus Dever, who plays the show's Detective Kevin Ryan.
Nor, he assures Living, are Castle and Beckett just ships passing in the night: "It's all ships dead ahead", he says, which means the dynamic between the two shifts from will-they-won't-they to "How do two people who love each other work together and how does that affect the people around them"?
To begin with, however, the new couple conceal the change in their relationship from their colleagues at the precinct, presumably with limited success, given what said workmates do for a living.
"You'd think so, right, that cops would be able to solve that particular mystery?" laughs Dever, who sounds loose and happy after finishing season five's gruelling 10-month shoot. He's looking forward to having some time off, for once without wondering whether Castle will be back for another season.
"We still haven't been renewed," he says, "But we're not worried about it, and it's the first year we haven't been."
That's because, in contrast to the eroding audiences of many network shows, Castle's ratings have enjoyed a small spike, partly due to early seasons of the free-to-air series now screening on a US cable channel. "We're getting viewers from that because they're going, 'This show is kinda fun! Why don't I watch the new episodes too'?" says Dever.
It's also because there's widespread agreement among the audience, critics and programme-makers that the evolution of Beckett and Castle's relationship has reinvigorated the show, putting a spring back in its step and placing the accent firmly back on fun.
That's just fine and dandy with Dever, who most enjoys Castle's more lighthearted aspects.
"I like the scenes that are particularly comedic, with all the interplay between the four main characters. My favourite days are when Nathan, Stana, Jon [Huertas] and myself get to play with the timing and see how funny we can make a situation, just through behaviour."
On the subject of which, keep an eye out for a late-season episode in which Dever and Huertas (who plays Detective Javier Esposito) strike a Charlie's Angels pose to hilarious effect.
"That wasn't scripted at all," laughs Dever. "It was just one of those cases where you're messing about with your friend to make the camera crew laugh. They did and, lo-and-behold, it also made it into the episode."
Although he has the attitude and aptitude for comedy, Dever has an equally strong background in serious roles - among other things he was the bad-guy-of-the week on almost every US crime show in the 2000s - and this season there's a storyline that allows him to exercise his dramatic chops.
"We do get to see a little of Ryan's darker side from his past as a narcotics cop. He gets to be a bit of a badass," Dever laughs, "Which really does surprise everybody."


• Castle returns to TV One tomorrow at 9.30pm.