Buzz about First Daughter's liaison with American not true, insists Key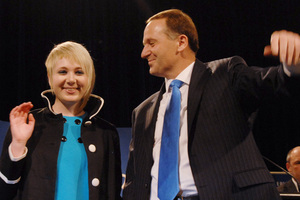 PM shoots down talk of Stephie and millionaire
Rumours surfaced this week that First Daughter Stephie Key was romantically linked to Princeton grad and internet millionaire Aaron Patzer, but papa John insists there is no love-match liaison, telling The Diary "it's not true".
The Prime Minister and his wife, Bronagh, do not like to discuss the private lives of their children, Stephie and Max.
Last year, Stephie accompanied her dad on several engagements in Europe and he revealed his daughter, who is studying in Paris, Skypes home so often he sees more of her now than when she was actually living in the family's Parnell pad.
Patzer, an internet entrepreneur and founder of Mint.com - a personal finance start-up he sold for US$170 million ($211.7 million) - made headlines in the past for a sexy tryst with Auckland-born, London-based portrait artist Rebecca Commissaris.
She drew nude charcoal sketches of her boyfriend in bed and posted them online, prompting media site Gawker to describe the sitter as "a fool in love".
US relations routine
Meanwhile, also doing their bit for United States and Kiwi relations are our air force band and kapa haka group, who performed in Washington DC this week to coincide with the biennial business US-New Zealand Pacific Partnership Forum.
Weighty claims on X Factor
Singing sensation Stan Walker, a judge on TV3's X Factor New Zealand, has triggered a discussion about celebrity body image after suggesting he's been told to lose weight because he's too big for television.
The 22-year-old apparently confided in fashion designer Francis Hooper from World when he visited the label's Auckland flagship store recently, where he is a customer.
World director Denise L'Estrange-Corbet told The Diary she was shocked by the admission. "I can't believe they asked him to lose weight. He looks great".
But a rep for the TV3 production insists Walker has not been put on a diet.
"It is not true. Neither Stan nor anyone else on the show has been told to lose weight. He looks amazing.
"Maybe he feels he needs to worry about his weight. But he shouldn't ... I can't speak for his other management [Sony], but TV3 have not discussed weight loss," Rachel Lorimer told The Diary.
There's no denying the camera adds the beef. University of Liverpool researchers, in a study funded by the Independent Television Commission, found it is because of the different way the human eye perceives two-dimensional and three-dimensional images.
Walker, of Maori descent, is no stranger to voicing his opinions about stereotypes and cultural images. He says shows like X Factor can help young Maori who may be held back by shame or a fear of succeeding.
Sonny Bill support
He may have changed codes and countries, but former All Black Sonny Bill Williams hasn't forgotten his little Kiwi fans. The Sydney Roosters star has stepped up to support Starship, New Zealand's national children's hospital, and its live Facebook auction.
SBW joins actor Lucy Lawless, soccer star Ryan Nelsen and artist Denys Watkins in the charity's Bid for Kids auction to raise money for the Starship Foundation.
Each week over a six-week period the charity will upload items to bid on. This week, auction items include an SBW-signed Roosters jersey, a Watkins lithograph and a personalised voicemail message from Lawless.
The auction is hosted via social commerce application BuddyBid and the charity hopes that by delivering through Facebook, bidders will share the activity with their friends and promote the viral reach of the auction and the Starship brand.
Not all cheeks turned
Conservative Party leader Colin Craig, whose Twitter account was hacked on Wednesday with an offensive message about child abuse, is not garnering sympathy from some corners of the Fourth Estate. The offending tweet was quickly deleted - after a Facebook SOS callout by staff - and Craig declared he'd been a victim of hacking.
Some in the media were not so sure, however.
But in a radio interview yesterday, Craig revealed he doesn't write his own tweets, which prompted Hilary Barry to suggest perhaps "he needs lessons from Judith Collins".
A royal aside ...
The Kate effect
Another high society engagement, another pricey bespoke outfit by Kiwi designer Emilia Wickstead. The Duchess of Cambridge, almost eight months pregnant, is proving an effective marketing tool for the young New Zealander who took to Twitter to plug the news.
"The Duchess of Cambridge looking beautiful in summer yellow," Wickstead tweeted her followers yesterday. HER summer yellow, she means.
Kate chose a bespoke version of Wickstead's canary yellow Marella coat to wear to the Queen's annual garden party at Buckingham Palace this week. Last year, it was a pink Wickstead dress to greet garden party guests.
An off-the-peg version on the Matches website was selling for 1071 ($1980) - but for how long? Given the impact of the Kate effect, this is one Kiwi flying high.
Showmancing night away
Meanwhile, in other royal news, Prince Albert and Princess Charlene have been keeping up amorous appearances this week: posing arm-in-arm at a church in Corsica, sharing fashion tips at a Dior show and dancing together at a charity ball in Monte Carlo. It's been royal showmance overkill. Ou est Byron Kelleher? The buff rugby star was nowhere to be seen. Well, not when the snappers were trawling for publicity's sake.