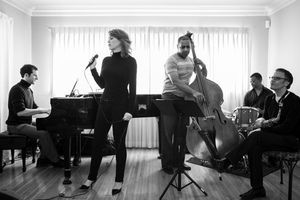 Vector Arena has announced they're opening up a new section of the complex as a more intimate live venue for Auckland, and 80s movie star-turned jazz singer Molly Ringwald is going to be the first act to perform there, on Wednesday June 12 and Thursday June 13.
Dubbed The Tuning Fork, the small venue which is inside the arena (to the right hand side as you enter) will open as a cabaret style room for Ringwald's two shows, with table seating and theatre style seating available.
Vector Arena says they're pleased to have a new space where they can exercise their enthusiasm for acts and music more suited to an intimate setting.
"Having a cool small venue as part of the arena makes us unique not only in Australasia but pretty much worldwide. When someone who's played the Tuning Fork eventually sells out the main arena, we'll know it's job well done: here's hoping it's a Kiwi act" says Stuart Clumpas, executive director of Vector Arena.
Ringwald, who came to fame as part of the 80s brat pack, starring in Sixteen Candles, The Breakfast Club, and Pretty In Pink, has returned to singing jazz (something she's done since performing with her father, respected jazz pianist Bob Ringwald, from the age of three) and released her debut album Except Sometimes earlier this year. It's a homage to the Great American Songbook, and features carefully crafted jazz standards.
It will be Ringwald's first appearance in New Zealand, and tickets are available for the Thursday night show (Wednesday has sold out) through Ticketmaster.
- TimeOut