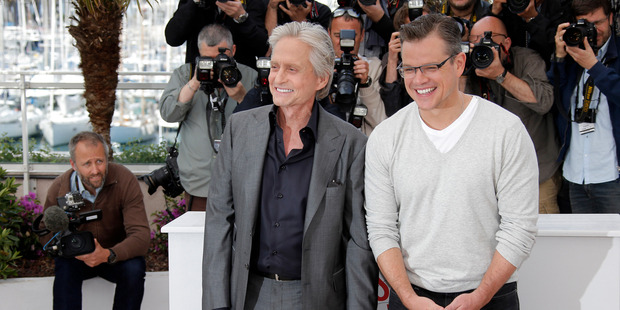 Behind the Candelabra, the biopic of flamboyant entertainer Liberace, turned the spotlight on homosexuality at the Cannes Film Festival this week - and in a landmark year for gay rights.
Steven Soderbergh's movie, that may be the director's swansong, has generated a huge buzz for the top-line heterosexual actors cast in the roles of gays.
Michael Douglas turns in an eye-catching performance as the ageing Las Vegas pianist, while Matt Damon plays his handsome teenage lover, Scott Thorson.
Watch: Michael Douglas tear up as he speaks about his role as Liberace.
Outrageously flashy but also a virtuoso pianist in his own right, Liberace died of Aids in 1987 at 67 after four decades in the spotlight.
Visually, the movie is a blaze of cheesy style, from mink coats and Rolls-Royces to rhinestone jackets and the trademark candelabra that Liberace placed on his piano.
Beneath the flash, though, the film explores themes of love and trust, tinged by Liberace's narcissism and by Thorson's vulnerability as a child raised by foster parents.
In one scene, Liberace pushes Thorson to have plastic surgery so he can look like the star did in his youth.
Throughout his life, Liberace declared he was a heterosexual, encouraged gossip that he was dating women and in the 1950s sued a British paper that insinuated otherwise.
He persisted with the facade right into the 1980s, when Thorson, by now addled by drugs and ditched by Liberace, filed a palimony lawsuit.
Behind the Candelabra, which had its premiere yesterday in Cannes, is released in a historic year for gay rights with 14 countries having now legalised same-sex marriage.
"Fifty years ago, we didn't even have the Civil Rights Act in the United States - now of course it's part of our DNA," Soderbergh said. "So when this issue comes up, of equal rights for gays, I always think, I'm hoping, 50 years from now, we're going to be looking back on this and wonder why this was even a debate, and what took so long," he said.
The film's gay theme prompted mainstream Hollywood to shy away from financing the picture, Soderbergh said. As a result, he turned to the US cable TV giant HBO. Even if the movie turns out to be a hit, it will have no chance of an Oscar by screening first on television.
Damon quipped: "In terms of being in bed with Michael Douglas, I now have things in common with Sharon Stone and Glenn Close. We can all now go out and trade stories."
- AAP