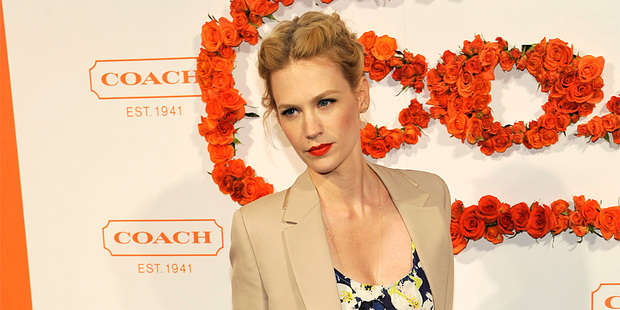 Actress January Jones is still refusing to go public with the identity of her son's mystery father because she insists it's no one's business.
Jones, best know for her roles in Mad Men and X-Men: First Class, has remained mum on who fathered her 20-month-old child Xander ever since she fell pregnant in 2011, and she's not about to open up now.
The actress, who has previously dated Ashton Kutcher, singer Josh Groban and comedian Jason Sudeikis, was asked to name the dad in a recent interview with The New York Times, but she declined, stating: "That's my son's business. It's not the public's business."
Jones went on to reveal that she was advised early on in her career to keep her private life out of the spotlight - by none other than acting veteran Jack Nicholson - and it's a rule she has stuck by for years.
"Jack Nicholson once told me: 'You should never give your personal life away, otherwise people will pick you apart. They'll never believe in your character.'
"Women should have lots of secrets. It's our right to have secrets. Otherwise, what would we write in our memoirs?"
However, Jones has been more forthcoming about her son's little life achievements.
"His first word was 'Mama'. His second was 'back', 'cause I kept saying, 'Put it back'."
Jones made headlines earlier this year when she admitted eating her placenta after Xander's birth.
She said eating it helped her stay positive.
"It's a very civilised thing that can help women with depression or fatigue. I was never depressed or sad or down after the baby was born, so I'd highly suggest it to any pregnant woman."
- WENN