A fresh approach to songwriting sees Vampire Weekend reaching new heights on their latest release, writes Paul J Weber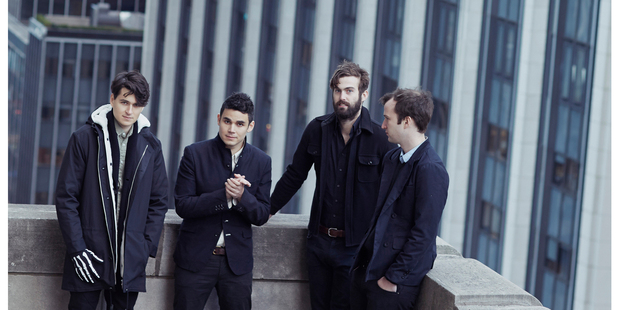 Vampire Weekend changed how they wrote songs, how they recorded, and even what an album of theirs looks like - the cover for Modern Vampires of the City isn't another artsy old Polaroid, but a 1966 black-and-white photo of a smoggy New York skyline. None of which will change some people's minds about the New York band.
"There's certainly going to be people who listen to this album and say, 'Wow, more of the same from Vampire Weekend. I knew I hated these ... college boys,"' says frontman Ezra Koenig.
Those ranks are thinning though. Blowing off Vampire Weekend as smirking, preppy Ivy Leaguers too quaint and precious for their own good is a position becoming tougher to defend. The tables are turning. Now it's their eye-rolling critics who risk not being taken seriously.
Modern Vampires of the City, the quartet's third album and follow-up to their 2010 breakthrough album Contra, is their best to date. The band call it the completion of a trilogy, and it will likely crumble whatever mass-appeal barriers are left.
"I wanted us to embrace our identity, in a way," says guitarist and keyboardist Rostam Batmanglij. "I wasn't afraid of sounding like we had before in some ways, because I think there was an opportunity to go deeper than we ever had before. That's what I think we're doing on a lot of levels on this record."
It's still a distinctively Vampire Weekend album: harpsichords, gospel pianos, Jamaican influences are liberally applied. But they're also more accessible than ever. First single Diane Young rocks along behind a punk riff and pounding percussion.
Members of the group had largely avoided writing songs together before the new album. But this time round, three songs - Don't Lie, Everlasting Arms and Hudson - all got their start during a cottage retreat to Martha's Vineyard, up near Cape Cod, after the group took a cue from their friends in the band Grizzly Bear and got out of New York City.
The trip was not a getaway to clear their heads. Batmanglij and Koenig, the band's songwriters, rolled through intense sessions during what was an entirely foreign and experimental approach to filling out an album. Koenig would walk around the grounds of the cottage with a legal pad, jotting down ideas, while Batmanglij stayed in the house and tinkered with putting songs together.
Then Koenig would walk back through the door.
"I'd set up a vocal mic and I'd say, 'Go! Do it!"' says Batmanglij.
Koenig says he also holed up in a house in Long Island, which he called "an experiment to see how I would react to not talking to a single person for four days". Which might sound a little maddening, but considering the band had been through four years of non-stop touring and recording, you can forgive the guy for wanting some solitude.
"We easily could have released an album a year earlier if we had just rolled with the songs that we'd written up to that point," says Koenig. "And, you know, maybe half of it would have been the same. But then another half would be mediocre. I really can't stand the idea that we'd ever release a song that felt like a throwaway."
Who: Vampire Weekend
What: Alt-arty pop rock out of New York
New album: Modern Vampires of the City, out now
Also listen to: Contra (2010)
- TimeOut / AP