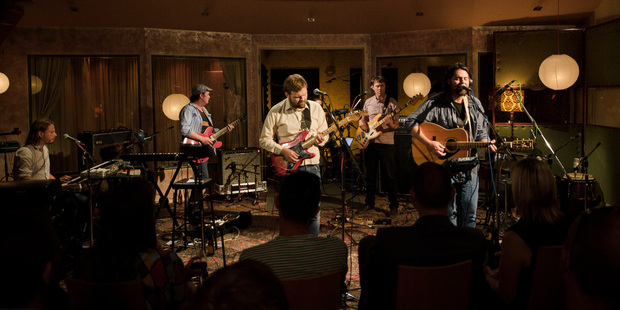 Luke Buda and Samuel Flynn Scott are music geeks extraordinaire. They really are. TimeOut is talking to the Phoenix Foundation's bearded frontmen about their latest album, Fandango - a double record with last track Friendly Society a mammoth 17 minutes in length - and they're loving it.
"I tried to take it out to 20 minutes," says Buda, "but it did actually feel like it was too long. It was really unfortunate because we had all sorts of atmospheric sounds in there, but, yeah, it just wasn't working."
"So," continues Scott wryly, "we had to get really focused and keep it to seventeen-and-a-half minutes."
But it's when talk turns to how long an album should be, and how long is too long, where their observations are truly profound. The first Strokes album, at just over half an hour, gets the nod; Radiohead's OK Computer, not so.
"Radiohead themselves admitted that they think it's too long and you've got to admit it's a bit of a f***** workout," says Buda with a smile.
Scott: "They could have left Electioneering off, and then it would have been the perfect album. I like vinyl sides. I like 22 minutes of music and then you have a break or you flip it and you have to then think, 'Am I still listening to this record?' You're much more engaged. Which is a bit of a lost art these days because people just have their iPhone on shuffle going through their crappy stereo."
The thing is, after releasing five albums, starting with excellent 2003 debut Horsepower, these guys know a bit about music - and they've set out to show that on Fandango. With its more expansive nature and their admission that "we are slightly proggy", Fandango is different from the poppier bent of 2010's Buffalo, with songs like Bitte Bitte and the catchy sonic title track.
It was on the back of Buffalo that the Phoenix Foundation went to Britain to - as Scott said when TimeOut last talked to him in 2010 - "play 30 gigs a year across Europe and make some money from it".
They've done more than that. Since then they have been courted by The Guardian, with Buffalo getting a five-star review and Fandango premiering via a live stream on the newspaper's website - though it got four stars when it was released at the end of last month. They've been playlisted on BBC radio and on stations around Europe, and scored an appearance on British TV institution Later With Jools Holland in 2011. So these days they are playing 500-capacity venues around Britain, and to around 1000 punters at shows in London. "So we're not smashing it, and we're not a hype band, which is totally the way it should be for us," says Scott. "We just wanted to break into that world where we can do a bunch of festivals, gigs and sell a few records and just be part of it."
But on the flipside of touring, these days parental responsibilities and domestic situations are also more demanding - and it comes through on the album. Thames Soup is about "needing to Skype your family, wanting to come home, cook your family dinner and go to open homes on the weekend".
And only the Phoenix Foundation could come up with a psychedelic pop gem called Black Mould, about damp homes. "It's a real thing in New Zealand, and I'm quite passionate about it," says Scott. "It's horrible to live in a place that is damp and mouldy and you've always got a runny nose.
"Everyone wants to live in a Victorian villa in Grey Lynn, or in Mt Victoria in Wellington, or the North East Valley in Dunedin. But chances are it will make you sick and the mildew will rot it. So it's very literal. But people should write about things they're thinking ... like wanting to get in touch with your family and wanting your house to be drier."
Who: Phoenix Foundation
New album: Fandango, out now
On tour: The Powerstation, Auckland, July 12. For full tour dates go to thephoenixfoundation.co.nz
Watch: The Phoenix Foundation's exclusive Sundae Session performance, details here.
-TimeOut