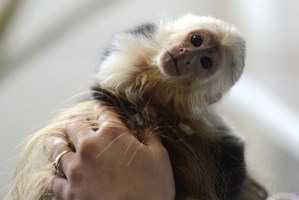 A tiny capuchin monkey belonging to Justin Bieber won lifetime residency in Germany on Saturday after the singer'sagents said Bieber would not try to recover his confiscated pet.
Mally, aged five months, is destined for an unnamed German zoo to be integrated into a tribe of capuchins. Animal welfare officials refuse to say which zoo will get the monkey for fear that the Canadian singer's girl fans will stake out the cage.
It's unlikely Bieber will be posted the bill, estimated at more than 10,000 (NZ$15,936.39), to accomodate Mally at a shelter in Munich, because Germany has no treaty with the United States, where Bieber lives, on recovery charges.
Dietrich Jelden of the German Nature Protection Bureau said the only way his agency could fine Bieber would be to wait for him to sing again in Germany and visit him personally to hand over the bill.
Mally was seized at Munich Airport at the end of March when Bieber arrived because the singer had no proof the capuchin, a protected species under nature treaties, was bred in captivity.
Bieber was given until Friday to produce the necessary documentation.
"Justin Bieber's management explicitly told us Mally should move to a German zoo to live with other capuchins," Karl-Heinz Joachim, head of the Munich pound, was quoted by the Sueddeutsche Zeitung newspaper saying.
Joachim said Mally needs a few tests by a vet before zoo life starts.
- DPA