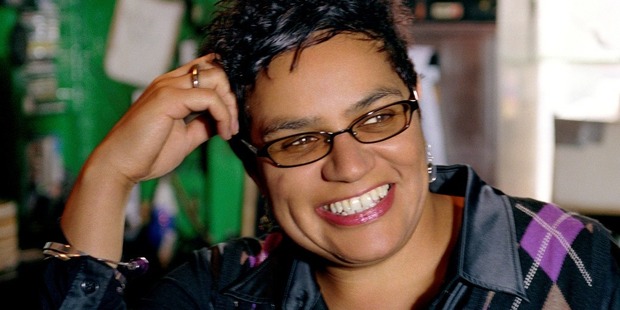 The big issue with writers' festivals is that you can't be at three or four events at once. So Saturday's rich array of offerings presented the ongoing dilemma of which writer to see, which can lead you down unexpected paths.
Before 11.30am in the morning I confess I was completely unfamiliar with the works of Scottish-Nigerian poet, memoirist and fiction writer Jackie Kay. By 12.30pm I was completely wowed by her humour, her writing, her history - and her broad Scottish accent.
Born in Edinburgh to a Scottish mother and Nigerian father, Kay was adopted by a white Scottish couple (who had married in New Zealand) and grew up with her adopted brother in Glasgow, where black faces were absolutely not common.
Superbly hosted by Stephanie Johnson, Kay told the audience of the time she travelled to Nigeria to make contact with her biological father, who had become an evangelist Christian and viewed his daughter as evidence of his sin. She had tracked him down via Google: "I put his name in and Pop popped up." But Pop didn't want her in his life so she has written him out of hers.
Kay recalled she was always being asked in Glasgow where she was from. In Nigeria, because her skin was lighter than the locals, a woman kept staring at her. She thought Kay was white.
For all her humour, Kay has suffered extreme racism, especially when she studied at the University of Glasgow and had to get police protection at one stage. She had the large crowd wrapped around her little finger; half an hour after the end of her session, the queue for her book-signings still stretched across the foyer.
Sir Max Hastings' War Is Hell session filled the ASB Theatre, with the circle also opened up to take the numbers. Introduced by Dr Adam Claasen, Hastings took to the podium for a lecture based on his survey of World War II, All Hell Let Loose, which examines the conflict from the perspective of the "little people", not the generals. He means the milions of civilians who suffered death and illness from starvation, privation and disease, and the psychological burdens of grief and worry.
He pointed out the complexities of the various "sides" engaged in the war: Indian people who wanted to support Britain but wanted freedom for their country; the French Vichy fighters who shot down British fighter planes; Churchill's refusal to send aid during the Bengal famine in 1943 in which thousands of people died.
He finished by describing a meeting he'd had in New York with a Hungarian woman who had survived internment as a girl in four concentration camps. After a few hours of talking to her, he waited outside for his cab to the airport, jumping up and down with fury because it didn't turn up. She told him that in the context of things, missing a flight was not so bad. It was a polished and assured performance which was greeted with loud applause and another long book-signing queue.
Hastings didn't need a moderator to deliver a professional presentation but Spanish writer Carlos Ruiz Zafon could have done with some tightening by Paula Morris, although I'm not sure how that could have been achieved. He was a steam-roller.
Her questions about his Barcelona-set Cemetery of Forgotten Books series were concise; his answers were not.
When you are going from one session to another and find yourself listening to a melodic Spanish speaker taking five minutes-plus each time to respond, the effect can be soporific.
But Ruiz Zafon did say some very sensible things. He likes to set his novels in the Barcelona of earlier modern times, "to take away the noise of the banal things that fill our lives today, like Twitter, Facebook, reality TV."
Judging by the busy houses at the festival during Saturday, people remain deeply interested in excluding those banal things in favour of reading.
That's a very good thing.