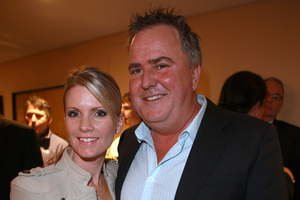 Celebrity chef Simon Gault is to be a dad - and he's already thinking about what to feed the baby.
The MasterChef judge could not hide his excitement when confirming he is expecting his first child with wife Katrina.
"It's super exciting. We're stoked, over the moon," he said.
The 48-year-old did not want to say when the baby was due, but he'd already hit the shops.
"I've been shopping for bassinets. That's what you do, isn't it? I'm trying to do the right thing."
Gault said he was already planning some new recipes for when junior was eating solids.
"It's got to be healthy, it's got to taste good and it's got to be exciting. Everyone's got taste buds, whatever age they are."
Gault said Katrina, 38, was doing well and "beaming with a smile from one ear to the other".
Tonight on MasterChef: The top four contestants must each invent a dish for guest chef Ben Bayly, TV One, 7.30.