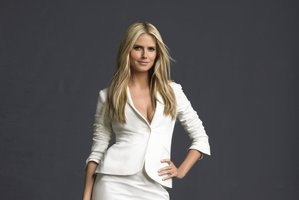 Heidi Klum always keeps her weekends free for her children.
The 39-year-old model raises kids Leni, nine, Henry, seven, Johan, six and Lou, three, with former husband Seal, and despite her busy schedule, she tries to be around to spend quality time with them whenever possible.
She said: "I keep weekends open and wrap my workday at a reasonable hour so I'm home for dinner and bedtime stories."
The busy working mother - who started dating her bodyguard Martin Kristen after splitting from Seal last year - also revealed her key to looking great is water.
She added: "I drink a ton of water all day. Honestly, staying hydrated is the best beauty tip. And I have an amazing team that gets me glammed up every time I hit the red carpet."
Heidi recently admitted she pays her kids to drink the healthy smoothies she makes for them.
She said: "I've never really done a real diet. My New Year's resolution for 2013 was to start every day with a fresh juice. We make an effort every morning - we peel pineapples, apples, lemons, bananas, kiwis, ginger and berries and we make delicious smoothies.
"Some of my kids don't love it so I decided I would pay them a dollar if they finish their drink. All of the money goes into their piggy banks, they have collected a bunch of money since January 1. What's good for them is good for me as well."
- BANG! Showbiz