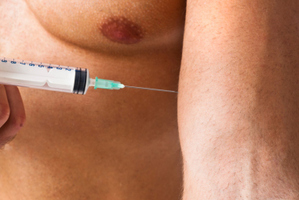 The lawyer for a California heavy metal singer accused of trying to hire someone to kill his estranged wife says the singer's mind has been ravaged by steroid use.
U-T San Diego reports that the detail came to light during a hearing for 32-year-old Timothy Lambesis, who has pleaded not guilty to solicitation for murder. A judge at the hearing reduced Lambesis' bail from US$3 million to US$2 million.
Prosecutors say Lambesis, frontman for Grammy-winning band As I Lay Dying, paid US$1,000 cash to an undercover detective posing as a hit man and gave instructions on how best to kill his wife.
Lambesis' attorney Thomas Warwick said in court that his client had gotten into body building and steroid use. He said Lambesis' thoughts were "devastatingly affected" by the drugs.
-AP