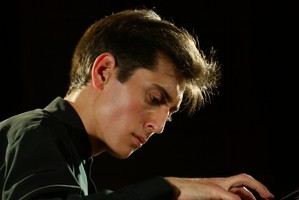 "Very much so," says Yevgeny Sudbin when I ask whether he still considers himself a Russian, despite having lived out of that country for 22 years. "Even though my passport is German, which makes it easier to travel, I still speak Russian, read Russian books and play Russian music, which I can connect to very well. I don't have to really think when I play it, whereas with other composers, I have to spend more time analysing in order to understand it."
Check out Sudbin's growing catalogue on BIS Records for some of the finest recordings of Rachmaninov, Medtner and Scriabin around.
However, on his first visit to New Zealand next week, appearing with the New Zealand Symphony Orchestra, he will be giving us Beethoven's B flat Concerto. "It may be the least played of the concertos, but it's misunderstood. Although it's known as the second, in fact this is the first he wrote, and I think it's great."
Sudbin is in the process of recording all five Beethoven concertos with the Minnesota Orchestra under Osmo Vanska. In July, he's in the studio again, and this concerto, coupled with the C major, will complete the set.
Back in 2010, the first release in the series, pairing the G major and the Emperor, was almost startlingly low-key. "Those concertos are quite introverted," he explains. "People tend to play the Emperor too heavily - that nickname is undeserved, and wasn't Beethoven's. A lot of the subtleties get lost if you indulge in that sort of heaviness."
Can we expect the same tactics next week? "Obviously you can't go wrong with a light approach," says Sudbin, before sounding a note of caution. "There are places that are not light and innocent, however, pages where there's more emotion, like the sublime second movement, as lyrical as an aria."
Sudbin has performed this concerto three times in Adelaide over the past week, and will tackle it four times on his New Zealand tour - an invaluable experience ahead of the upcoming recording sessions in Minnesota. In Adelaide, he played under Michal Dworzynski; here it will be Mark Wigglesworth on the podium.
Sudbin values the changes in perspective a new conductor can bring. "You discover hidden qualities in the work, and I like to pick up new ideas from the conductor, incorporate them into my interpretation and see how they work. In the first Adelaide performance, we started really lightly, molto leggiero; by the third, it was sometimes getting closer to late Beethoven. That's the great thing about a concert performance - it allows you to perform."
Recording, on the other hand, "is a different art form".
"It can elevate a performance because it's like putting the music under a microscope, in high resolution. The biggest challenge is to achieve spontaneous takes one after the other, without an audience there to ignite you."
He is curious about the instruments he will be playing here. A keen photographer, he has brought along a camera to catch what he has heard is "the most stunning place on Earth". Bringing his own piano, alas, would be rather more problematic.
In the meantime, he has hopes for an instrument that "will find as many colours as possible - and some of the modern Steinways are great in that respect".
The Russian composer Scriabin, whom Sudbin recorded brilliantly in 2007, is the touchstone here. "Scriabin understood the modern piano and how the colours work. Discovering those colours in a composer is what really appeals to me, and I find it fascinating that you can make a painting in sound with what is basically a percussive instrument."


Performance
What: New Zealand Symphony Orchestra
Where and when: Founders Theatre, Hamilton, Thursday at 7.30pm; Auckland Town Hall, Friday at 7pm