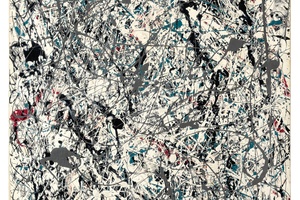 Almost half a billion dollars was spent in the most lucrative art auction in history, which set records for works by post-war artists including Jackson Pollock and Roy Lichtenstein.
With the United States still gripped by a jobs crisis and economic woes, the international super-rich lavished US$495,021,500 ($611 million) on Thursday's Manhattan sale.
Pollock's Number 19, 1948 went for US$58.4 million after "a fierce bidding battle from collectors in the saleroom and on the telephone", said Christie's, the auctioneers.
The sale of the "drip painting" set a record price for an art work by the American painter, a leading figure in the Abstract Expressionist movement before his death in 1956.
Records were also broken for 15 other artists, including Lichtenstein, whose 1963 Pop Art classic Woman With Flowered Hat sold for US$56.1 million. Dustheads, a 1982 piece by Jean-Michel Basquiat, went for US$48.8 million, which set another record. In all, nine works sold for more than US$10 million, while 59 went for more than US$1 million, according to Christie's.