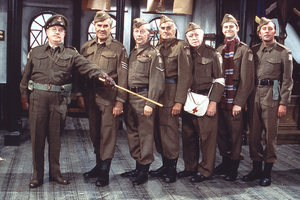 Here's a thought to give you a headache: if what's past is prologue (thanks, Shakespeare), then what do you call it when the present is obsessed with recycling the past?
Well, if the past we're talking about is on Sky's new nostalgia channel - which, inexplicably, has been called Jones! - then I say the past is a total bloody shocker.
Did I really once laugh at the repetitive, racist and homophobic nonsense that is It Ain't Half Hot Mum? Did I really think that Happy Days' The Fonz, who is actually incredibly nerdy and possibly rather stupid, was cool? Could I have actually watched episode after episode of Cheers (the only thing consistently funny there is Sam's hair) or Mork and Mindy (Robin Williams plays Mork like a mental toddler on bad speed, Pam Dawber's Mindy is as sophisticated as a high-school girl)?
Well, if I did watch and like and laugh at them, then all I can think after rewatching them (they're all on weekdays on Jones!) is that in the past I had really, really rubbish taste. But then, I was only 10 or so.
Of course nostalgia, as the old one-liner has it, ain't what it used to be. But so far Jones! - why the exclamation mark, by the way? - is a lesson in why the past is probably best left there.
This is particularly true for Twin Peaks (Wednesdays, 8.30pm), a show which exists in my memory as a wacko classic, but on rewatching 20-plus years later turns out to badly acted with awful dialogue and utterly lame direction.
Much else in the Jones! line-up shouldn't have been dug up either. Do The A-Team (Tuesdays, 8.30pm) or Thunderbirds (Sundays, 8.25am and 6.30pm) or Bonanza (weekdays, 2pm) really need another repeat? No. But now, like so many zombies, they're staggering around the TV schedule all over again.
Actually, for my money there's only one true classic on the Jones! schedule so far and that's Dad's Army (weekdays, 7pm). It is timeless television, though only for people who have a sense of humour.
I am looking forward to rewatching Star Trek: The Next Generation (Saturdays, 7.30pm) too, which (in my opinion - perhaps controversially) is by far the best of the Star Trek franchise.
But mostly I suspect that the only thing Jones! is actually good for is as a kick-off point for a good pub conversation about programmes you'd put on your own personal channel. Mine (called Dixon! obviously) would feature The High Chaparral, the Tom Baker and Jon Pertwee Dr Whos, Children of the Stones, Space 1999, Planet of the Apes, Escape Into Night, Captain Scarlet and the Mysterons, The Sopranos, Seinfeld, Auf Wiedersehen, Pet, Curb Your Enthusiasm ... anyway, I'd never turn it off.
These really are classics, not TV shows that conform to a formula that goes something like: utter crap + enough time passed = nostalgia gold.
The fact that a television show was made 20, 30 or 40 years ago doesn't mean it is a masterpiece or even an ironic treat. It just means it's from the past. And as that great philosopher Dan Brown once said, "Sooner or later we've all got to let go of our past." Jones! might turn out to be the best way to make that happen.
-TimeOut