Stephen Jewell meets the fierce women with growing roles in Game of Thrones.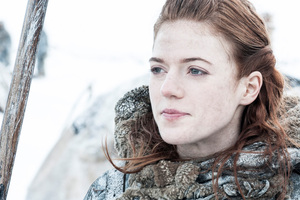 It gets worse as all of the extraordinary and unexpected hideous things that you would think couldn't possibly happen actually do happen!" I've just asked Gwendoline Christie about what to expect in the latter half of Game of Thrones' third season, which has so far seen her character Brienne of Tarth change from captor to accomplice of the notorious Kingslayer Jaime Lannister, played by Nikolaj Coster-Waldau.
"Every woman I come into contact with asks me about working with Nikolaj because he's so good looking, but I don't know what they're on about," she adds with a wry smirk, admitting that a grudging respect now exists between Brienne and Jaime as she continues the journey to escort him back to King's Landing.
"There's an established dynamic there, which is difficult to change. But I really enjoy working with Nikolaj and let's say that the relationship you see on-screen is not that different from the one off-screen."
With her striking androgynous looks and towering 190cm height, the South Downs-born actress seems like an inspired choice to play the overly earnest but formidable knight.
However, her habit of breaking into hysterical laugher suggests that she is much more gregarious company. "I'm just a pussycat," says Christie, who had only appeared in a few small supporting parts on programmes like of Wizards Vs. Aliens before snaring her breakthrough role as Brienne. "I have to put them at ease, dear. But I don't think they're scared of me, although hopefully they are a bit when I start slamming away with the sword. The actors who are employed on Game of Thrones are quite a hardy lot so even at Brienne's size, I don't think anyone is that intimidated, or at least I hope not."
Citing the example of Emilia Clarke's warrior queen Daenerys, Michelle Fairley's matriarch Catelyn Stark and even Lena Headey's treacherous Cersei, Christie is impressed by Game of Thrones' diverse list of strong female protagonists. "What the show does really well is put together a selection of things in a very unusual way that is also incredibly captivating," she says. "It also very important to me, not just as a female actress but as a woman, to see women being portrayed with strength, and they need to continue to be depicted in that way."
Having also joined at the tail-end of season two, Rose Leslie's feisty Wildling, Ygritte, has also started to come into her own in recent episodes. "It was a bit daunting at first but after about three hours of filming you start to feel like you can take it in your stride," says the 26-year-old Scot, previously best known for playing housemaid Gwen Dawson in Downton Abbey. "You just have to throw yourself into the character and portray her the best that you can. She's a Wildling so she's tough and she embodies that kind of true grit."
Just as Brienne and Jamie's bitter rivalry has taken some intriguing twists and turns, Ygritte has developed an intense rapport with Kit Harrington's rogue Night's Watch man Jon Snow. "There's a bit of a love/hate relationship there," she says.
"He's a bit of an enigma to her as she wouldn't have come across someone like Jon Snow before in her life. He's also someone who takes himself quite seriously so she gets a huge amount of pleasure out of aggravating and teasing him in the way that she does. That's something that's new to her so she's very curious about him."


• Game of Thrones screens on Soho on Mondays at 8.30pm