Two solo artists come together on tour to tell tales of love and loss, writes Lydia Jenkin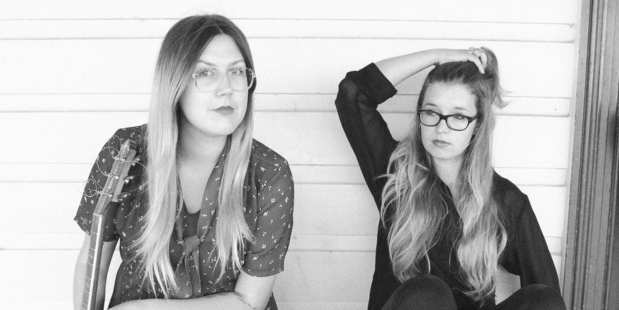 It's a pretty compelling tour title, Ballads and Badlands. Nadia Reid and Ivy Rossiter (aka Luckless), a pair of solo songbirds touring together this month, came up with it as a way to convey something about their music.
"Ivy first came up with another one, Hip Flasks and Badlands, I think," Reid explains, "and I really liked the state highway presence, but I wasn't quite sure if the hip flask was my thing. So she kept tweaking it, and I thought Ballads and Badlands was absolutely perfect."
Rossiter chips in: "It seemed like a good combination of the style of music that we're playing and the territories - both physical and emotional - that we're travelling through. While nowhere in New Zealand could really be described as proper 'badlands', there is a feeling of going out into the wild every time we step into the car."
The pair has spent the past two weeks playing 12 shows, hopping from Christchurch, down to the deep south of Wanaka, back up to Nelson and Wellington, and now through the North Island, showcasing songs from their respective debut records (Letters I Wrote and Never Sent by Reid, and a self-titled album by Luckless) and trying out some new ones.
Though their records are quite different, Reid feels there's plenty that makes them musically compatible, and they share the stage with ease.
"I think a lot of our songs have some broad thematic similarities, you know, ballads are often about love and loss, and I think we both have a lot of feelings. And we also just happen to kind of look a bit similar, which is kind of quirky."
Reid is originally from Port Chalmers and has a vivid memory of when she first really fell in love with music.
"My mum has always done theatre and been a singer, so she was always listening to lots of music when I was growing up. But I was never very interested in music until I was about 14 and I saw Mahinarangi Tocker perform at this folk festival down south, and she was just amazing. I still get shivers thinking about it. I got her CD and listened to it on repeat, and I remember being so moved by her lyrics."
She moved to Christchurch after high school and began writing her own songs, encouraged by friends in bands like The Eastern, and putting down her first songs at small Christchurch studio Quicksand about six months after the earthquake.
"Thinking about it now, it was really strange - the city was still pretty messy, but it was kind of something to keep us busy. The studio wasn't finished, it was quite bare, and we were just using the space, really. Ben Edwards, who was helping me, brought all his gear in from The Sitting Room studio, which was great."
Reid's songs are gently folk- and country-driven, focused around her voice, supported by guitar.
"I'm all about the lyrics and the melody and the delivery. I think a lot of my songs do start simply from writing down a few words."
Language and literature are a big part of Rossiter's songs, too - she's an avid reader, and finds plenty of inspiration in authors from Haruki Murakami to Janet Frame for her melancholic indie-rock.
"Ideas and images from the books I'm reading sometimes pop into my songs, and sometimes entire storylines, depending on how compelling they are to me at the time. If the story is strong enough that it actually makes me put down my book and get a guitar, that's a pretty strong message for me."
Rossiter spent many months crafting the Luckless album at Roundhead Studios, with half-days grabbed here and there, along with drummer Will Wood, who was then the other half of the duo. Wood's busy roles with several other acts has meant Luckless is now a solo project, and though Rossiter has had to adjust her live approach, it also means she can more easily do collaborative tours like this one.
"I'd love to be rolling down the road all the time. Each time I go on tour I meet new people, I see new places, and I get to visit the old favourites, the people who've supported me ever since I started. It's a special feeling to be welcomed back somewhere, as special as someone taking a punt on us for the first time," she explains.
"You meet a lot of really passionate people with great stories in small towns who want to stay and chat until 3 in the morning," Reid adds. "And I love seeing all these places you otherwise might not necessarily go to."
Who: Nadia Reid and Luckless (Ivy Rossiter)
What: Ballads and Badlands Tour
When and where: The Wine Cellar, Friday, May 24; Golden Dawn, Sunday, May 26. For full tour dates, see nadiareid.com
- TimeOut