P Money's deal with NYC label has major spin-offs, finds Paula Yeoman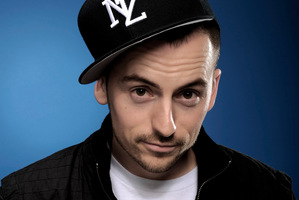 He has long been one of New Zealand's leading DJs and producers. Now P Money – aka Peter Wadams – is poised to take on the world.
After signing a deal with the New York-based label Duck Down Music, he has set up home in the East Village and just released his highly anticipated new album, Gratitude.
"I moved over here in June last year, a little bit before the deal was announced, because I really wanted to make this happen," he says.
And now that it has, Wadams is thrilled that he's finally put out the album that he's always wanted to make.
"The whole record is straight-up hip-hop. There are a couple of R&B influenced numbers. But yeah, it's the kind of hip-hop that I always grew up listening to," he says.
"I think it benefits from having that single focus, rather than my last record, which was a little all over the place genre-wise and stylistically.
With this one I kept it all in the one bag and I think I've ended up with a good result."
Having a major label behind him also means Wadams has been able to call on an impressive cast of well-known hip-hop figures, from Talib Kweli to Havoc from Mobb Deep.
"It's not a case of now that I'm with Duck Down I have all these artists at my disposal. These are all individual artists with their own careers, but the label has been a conduit.
"For example, with Havoc, I've always been a fan and wanted to get him on a track. I was just having a conversation in the office and I asked 'Do you guys know him?' And they were like, 'Sure, we'll just pick up the phone.' So it's definitely a huge asset having a team on board that already has those relationships."
Wadams is also flying the flag for locally grown R&B and hip-hop, with soul diva Aaradhna - whose critically acclaimed last album was produced by Wadams – featuring on Celebration Flow and @Peace collaborating on the track Finding God.
"It was very important for me to have New Zealand artists represented on the album. I could've just used talent from here, but I wanted to save the spots for Aaradhna, because she's just amazing, and I really like what @Peace are doing," he says.
As for the title, Gratitude, Wadams says it's his way of saying thank you to everyone who has ever offered a helping hand.
"I just had a moment of reflection on where I'm at. All these things I wanted to do as a kid, I'm literally doing them and I'm grateful for the chance to be able to do it."


• P Money's new album Gratitude is out now. He will perform with special guest David Dallas at the Powerstation in Auckland on June 15.