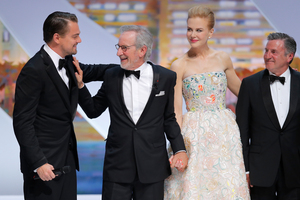 Baz Luhrmann has shrugged off the criticism of his big screen adaptation of The Great Gatsby, taking inspiration from its author F. Scott Fitzgerald, who was "horrendously criticised" when the novel was published.
The 3D film opened the 66th Cannes Film Festival yesterday, and the Australian director was in town alongside stars Leonardo DiCaprio, Carey Mulligan and Tobey Maguire to walk the red carpet.
Unusually for the opening film of a festival, Gatsby had already been released in the US. It has taken more than US$50 million ($60.6 million) at the box office but faced mixed reviews.
The Los Angeles Times said the filmmaking "suffocates beyond resuscitation any dramatic interest" while the Miami Herald called it "A failure that should have at least been a magnificent mistake".
The same, Luhrmann said, happened to Fitzgerald. "He wrote that book, and he was horrendously criticised when the book came out. The major critic of the day called him 'Fitzgerald, this clown' and said his characters were like marionettes."
Luhrmann said that throughout his career, with films such as Strictly Ballroom, Romeo + Juliet and Moulin Rouge, he "never got high critic scores".
"I knew it would come. What about Fitzgerald? What about him writing that book? What about [being called] 'a clown'? I just care that people are going out and seeing it."
One person who has approved of the adaptation is Eleanor Lanahan, Scott and Zelda Fitzgerald's granddaughter, born four years after the author's death. She approached the director following the premier, and told him: "I think Scott would be proud of this film, because people have said for many years you cannot take his first person narrative and make it into a film. I think you've done that."
Luhrmann said: "For me that was about as good as it could possibly get. If we've done anything, that's made it worthwhile."
Critics who have praised the adaptation have said it was "unmistakably F. Scott Fitzgerald's The Great Gatsby" and it was "the best attempt to capture the essence of the novel".
DiCaprio, who worked with Luhrmann on Romeo and Juliet, said Luhrmann "inspires you in the workplace, not only to do your best, but dream big".
- Independent