The next big things out of America are three sisters whose sound is a mix of Fleetwood Mac, hip-hop and pop, writes Scott Kara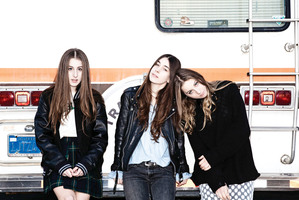 If Este Haim is the crazy one and her sister Danielle is the mysterious deep thinker, then Alana, the one TimeOut is talking to on the phone from Los Angeles today, is somewhere in the middle.
"Este is kind of crazy, in the best way. She tried to get on stage with Prince once but she got taken out of the stadium by 10 guards. Danielle, she's very quiet, mysterious, and has deep thoughts in her head. But I'm a mix of both," she says. But though the sisters are all different, they make sweet and sometimes unusual music together.
"It definitely is a crazy thing," she says of being in a band together, "but we know how each other works and when we stop working and touring we don't stop hanging out. It's weird to see two of us out and not the other one.
"I don't know why it [the music] works, though. Maybe our star signs are perfect. We never fight about anything. And people ask us, 'oh, are you guys going to break up like Oasis?' and we're like, 'that would have happened age 10 if it was going to'," she says with a laugh.
The thing is, their sound is hard to pin down. It's like Fleetwood Mac (the most obvious comparison), with hints of everything from Destiny's Child and Madonna to smooth 90s R&B and cheesy pop. Then there's the occasional clash of guitar. But it's all brought together by three fun-loving sisters who are living their rock 'n' roll dream.
The sisters, who grew up in Los Angeles and range in age from early to mid-20s, with Alana the youngest and Este the eldest, have released only one EP, as well as the cooing and head-nodding single Falling earlier this year. But they are in demand, and this year they play everywhere from Glastonbury to shows in Australia and, hopefully, says Alana, a stop-off in New Zealand.
Although they've played together all their lives, Haim - pronounced "hime" - formed in 2006 but only started taking themselves seriously in the past two years or so.
"I will not lie. It's been a crazy ride for us," she says. "A year and a bit ago, I was working in retail. I was hating life because all I wanted to do was play music and I was so bogged down by my normal 9-to-5 job."
The Haim girls got serious when Danielle came back from playing guitar in Strokes' frontman Julian Casablancas' band for his solo tour. She has also played in Cee Lo Green's all-female backing band.
"She travelled the world, went to all these amazing places and played and came back with all these amazing stories, and said to us, 'You guys, we can do this. We can do what they do."'
But it also took a long time to develop their sound - and actually record a song they liked. Since 2007, they have recorded a number of songs but would end up taping over them because "it just didn't sound new".
"We knew what we wanted but we didn't know how to take what we had in our heads and put it on tape. We really needed someone to take our thoughts and put it into music."
But then "we got our shit together" and concentrated on writing new songs, three of which would become the Forever EP released mid-last year, and hooked up with Swedish composer Ludwig Goransson, who by day writes music for TV shows such as New Girl and Community and by night is a hip-hop producer. "He introduced us to samples and sub-bass and all these weird sounds, and sounds from hip-hop that no one had even thought about putting in our music, which is what we always wanted but everyone thought it was a rock band, not a mixture of rock, hip-hop, and R&B.
"So, once we could listen to a song for more than three seconds and not cringe then that was when we knew it was ready."
And now they are at the point where they are about to finish their debut album: "Songs you can dance to, heartfelt, sad songs, and a party album. It's a summer album." And touring the world.
"I am so happy to be in this spot right now. I look in the mirror and go, 'what's going on?' I can't even stop to think about it because I just don't want it to end."


Who: Haim
What: Three Los Angeles sisters making unusual yet alluring music
Line-up: Danielle Haim (guitar/vocals), Alana Haim (guitar, keyboards, percussion), Este Haim (bass), Dash Hutton (drums)
Listen to: Forever EP (2012)
- TimeOut