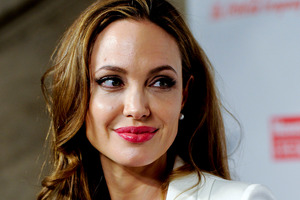 Celebrities from around the world have pledged their support to Angelina Jolie following her double mastectomy.
Country singer Sheryl Crow - who beat breast cancer in 2006 - has praised Jolie for speaking openly about her decision to undergo the operation after she was found to be carrying the BRCA1 cancer gene, which gives her an 87 per cent chance of developing breast cancer and a 50 per cent risk of ovarian cancer.
In a post on Twitter, Sheryl said: "I commend Angelina Jolie for her courage and thoughtfulness in sharing her story today regarding her mastectomy. So brave!"
The 51-year-old musician was given the all-clear after undergoing a lumpectomy and six-and-a-half weeks of radiation treatment in 2006, and she now hopes Angelina's moving story will inspire other women to get checked out.
Crow tweeted: "Ladies, please check out Angelina Jolie's story today, especially if you have breast cancer in your family history."
A host of other female celebrities including Kristen Bell and Dita Von Teese have also expressed their admiration for the 37-year-old actress, who revealed she'd had the operation in a moving article for the New York Times.
The Hunger Games actress Elizabeth Banks shared a link to the story with her Twitter followers.
She added: "Much respect & for sharing in classy way: Angelina Jolie on why she had a double mastectomy & how it can save lives (sic)"
Burlesque beauty Von Teese did the same, posting: "Angelina's admirable, informative letter, a must-read."
In the piece, Angelina praised her fiancée Brad Pitt for his support throughout the ordeal and revealed she'd made the difficult decision so her children - Maddox, 11, Pax, nine, Zahara, eight, Shiloh, six, and four-year-old twins Knox and Vivienne - wouldn't have to see get ill with cancer.
The Tomb Raider star lost her own mother Marcheline Bertrand at the age of 56 to ovarian cancer in 2007.
Other stars took to Twitter to support the actress.
"Huge prayers for Angelina Jolie & her family as she convalesces & bravo for raising awareness! #GetWellSoonAngie" said Actress Octavia Spencer.
"Angelina Jolie reveals double mastectomy. Proud of her for using her incredible platform to educate women," wrote TV personality and breast cancer survivor Giuliana Rancic.
"There is no difference between the star Angelina Jolie and the woman Angelina Jolie. The choices she made even as a director are still strong, when you read what she wrote about her own situation, and we all know that she didn't do that for herself but as giving an example to all the women on this planet earth who are suffering from the same disease," said Cannes Film Festival director Thierry Fremaux in a statement.
"This absolutely blew my mind. Angelina Jolie speaking out about a difficult decision that will inform + empower others," wrote Actress Nina Dobrev, on her website.
"#angelinajolie thank you for sharing your story and helping women around the world #inspirational" said singer and breast cancer survivor Kylie Minogue on Twitter.
- Bang! Showbiz with AP