Another act at this year's comedy festival answers our questions about their routine.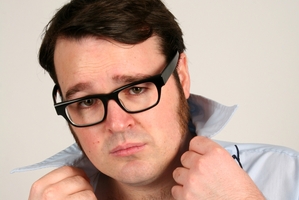 Jarred Christmas
In: Let's Go MoFo
What sort of voice should we read your answers in?
The voice of a 3-year-old whispering a secret into your ear, but not quite grasping the concept of whispering so occasional words are shouted, causing you to flinch and hold aggressive words back. Any accent.
Are you worried about how you'll come across in print?
Nah, print is easy, just use an ellipsis for ... timing and don't use too many exclamation marks!!!!!!!!!
Describe your show in 10 words or less:
Really, really, really, really, really, really, really, really good eh.
Is there somewhere we can see your work online? If not, why?
My website jarredchristmas.com and YouTube. There are other less salubrious places to look online for me, but that stuff is mainly just a hobby.
What does your mum think of what you do?
I think she is pretty happy about it. She has a picture of me with Priscilla Presley in a panto we did together in London last year. It's above her desk at work. Not framed or laminated, though, so she is proud, but a bit lazy in her pride.
It's a Kiwi thing. "Yeah I'm proud son but it's not in a frame 'cause I don't want you getting a big head."
Eight minutes into your show, all going well, what should be happening?
Standing ovation. But then I won't be able to follow up on that opening eight minutes and it will go downhill.
Where are you usually when ideas or jokes come to you?
Anywhere really. You learn to keep your radar pinging. Wherever you can do some uninterrupted mind wandering is great. I have two small children and the only place I can get some thought tinkering is in the shower. I just stand there for ages looking like a zombie for upwards of 20 minutes. It really annoys my wife but some great thoughts have turned into jokes through that process.
What's more important to have as a comedian, youth or wisdom? Discuss.
Wisdom. I speak from experience. I started stand-up when I was 18. I had lots of ideas and enthusiasm but nothing to say. All my routines were surreal nonsense. One routine involved a girl turning into a spider and me escaping through my wardrobe to Narnia. Another involved miming putting a propeller up my arse to see if I could fly. I'm still doing the propeller one, but that's because I'm wise enough not to let a bit of gold like that go.
Who's your comedy hero, and why?
My comedy heroes have changed over time. At the moment my hero is Louis C.K. That guy has fought for everything. There was no smooth sailing early on for him. He was on the brink of giving up, but finally started doing the comedy he wanted to do, not what he thought others wanted to hear. Above everything is the fact he is damn funny.
• Where and when: The Loft at Q Theatre, until Saturday.