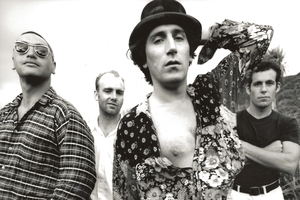 Pick of the week: PRIME ROCKS SPECIAL: THE EXPONENTS
Before the Exponents and their mega 90s hit, Why Does Love Do This to Me, which, like it or not, most Kiwis know the words to, there was a young lad from Geraldine by the name of Jordan Luck.
Back in the early 80s he formed a band, then known as the Dance Exponents, who played groundbreaking Kiwi pop hits such as Victoria, I'll Say Goodbye (Even Though I'm Blue) and All I Can Do off their classic 1983 debut Prayers Be Answered.
The Dance Exponents made an impact because, as Dave Dobbyn (then frontman for D.D. Smash) and Richard Driver (singer in Pop Mechanix/Hip Singles) pointed out in this new documentary, no one else was writing songs like Luck. The band were a breath of fresh air after an era of Auckland pub rock and alongside Flying Nun's jangly, arty and lo-fi output.
As Driver remembers: "These guys came in from the provinces and cut a swathe through everything I knew of at that time. They had all their own songs, pop songs that were really accessible. They were a pop group with this really cheeky, likeable frontman who was like a young Rod Stewart."
Made to celebrate the band's 30th anniversary and timed to air during New Zealand Music Month, The Exponents is the first local documentary to feature as part of the Prime Rocks series. It also coincides with the release of new album Eight Days at Roundhead, which includes early songs written by Luck that never made it on to record.
The rockumentary traces the origins of the band, from Geraldine, where they practised in wool sheds and pig farms, to meeting mainstay bandmates Brian Jones, David Gent, and Michael "Harry" Harallambi, through to their initial chart success in the 80s and becoming one of the country's most loved bands following the release of 1992 album Something Beginning With C, which included Why Does Love Do This to Me and Who Loves Who the Most.
It also features archive footage from early gigs at the Hillsborough Tavern in Christchurch and the 1984 Music Awards (when they won Best Group up against the Patea Maori Club and the Mockers), and interviews with insiders such as Mike Chunn (who signed the band to Mushroom Records in 1982) and Exponents' fans like Pete Shaw, who sums up the band's live legacy perfectly: "It's like Jordan's your best mate. It's just a party."
When: Wednesday, 9.30pm
Where: Prime
What: The story of Jordan Luck and his band
Reality pick: AMERICAN IDOL
While things just start to heat up in our local singing competition, American Idol has reached its finale and, on Friday night, just hours after it screens in the US, the audience will find out who the winner of season 12 will be: soulful diva Candice Glover or country singer Kree Harrison. Both impressed judges Randy Jackson, Nicki Minaj, Mariah Carey and Keith Urban in last week's show, and were pushed to the final by the voting public. It's been the first season in which all top five contestants were female, and will be the first time a female has won the title since season 6 (when Jordin Sparks won). In the three-hour episode, the two finalists will take the stage in Los Angeles to compete one last time, then all the top contestants will reunite for an encore performance before host Ryan Seacrest reveals the winner.
Where: Prime
When: Friday, 7.30pm
What: The winner is crowned
Food pick: CHELSEA NEW ZEALAND'S HOTTEST HOME BAKER
The show that can make you desperate to turn on the oven and whip up a batch of scones is back for another season. Colin Mathura-Jeffree, with international baker and patissier Dean Brettschneider and food scientist Julia Crownshaw, are back to find the nation's best baker, and are looking for greater innovation than in the past. This year also sees the show introduce its youngest baker yet - 16-year-old 2010 Chelsea Junior Baker Antony Kapeli-Su'a, trying his luck with the big guns. Producers also found a record number of men entering this year, and have brought five men through to the top 16. In the first challenge, the contestants will have to choose a card determining sweet or savoury, then they have 90 minutes to create their best dish to showcase their skills in that area, in the hope of gaining a place in the top eight.
Where: TV3
When: Thursday, 7.30pm
What: Contestants, start your ovens
Music pick: HISTORY OF THE EAGLES
The Eagles album, Their Greatest Hits (1971-1975), was the biggest selling album of the 20th century. Their manager, Irving Azoff, brings out the plaque that proves it at the end of this new documentary, which premiered earlier this year. The Eagles have survived personal and professional struggles, and remain hugely popular 40 years after their heyday. This documentary is a rare glimpse at what went on behind the scenes for this usually very private band, notorious for fights, rock 'n' roll excess, and a 14-year break-up. All the band members, past and present, are interviewed. A surprisingly large amount of high-quality archive footage illustrates their recollections. There's plenty of acrimony and belligerence in the film, but it's also a reminder their camaraderie created many timeless classics.
Where: Prime
When: Tuesday, 8.30pm
What: Behind the hits
Drama pick: BREAKING BAD
The dark drug-dealing drama - with hints of comedy thrown in - makes the move from Four to SoHo for its fifth and final season. Series four came to a violent end with the death of drug kingpin Gus Fring, which left Walt (Bryan Cranston) and his sidekick, Jesse (Aaron Paul), free to operate on their own terms. Although there is still plenty of friction between the methamphetamine-making pair, they go about setting up their own drug empire. However, while Walt is busy taking over the meth trade his relationship with his wife, Skyler, continues to deteriorate. The 16-episode season is split in two, with the final run of eight shows starting the same week as it is broadcast in the US (scheduled for August 11). It also encores on Thursdays, from May 23, at 7.30pm.
When: Tuesday, 8.30pm
Where: SoHo
What: The making of a new drug empire
- TimeOut