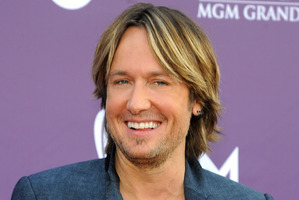 Keith Urban was left red-faced at a concert when he realised he had been dragging a fan around after accidentally snagging her with his guitar.
Urban likes to take trips through the audience during his shows to get up close and personal with fans, but he grew annoyed with one woman when she wouldn't let go of his guitar.
"I notice that she's just tagging along with me and she's latched on to my guitar.
"I'm thinking, 'This woman is crazy,' and I'm trying to almost kick her off the guitar, literally," Urban told US talk show host Conan O'Brien.
"I'm pulling the guitar neck so aggressively and I look down and she's got this top that I've snagged in my guitar and I've actually been pulling her along.
That wasn't his only embarrassing moment with a fan at a gig: "This girl yelled out 'Will you sign my leg?' and I thought, 'This'll be a good moment, I'll bring her up onstage, sign the leg and everything.'
"I see her head disappear in among all the people and the next minute, her head comes up and she throws this thing at the stage; she's unhooked this prosthetic leg.
"I signed it and then I'm thinking, 'What's the proper prosthetic leg returning etiquette? Do you throw it back, do you crowdsurf it, do you make her hop up onto the stage'?
"I sort of gingerly crowdsurfed it back," Urban said.

- WENN