Sympathetic, engaging performances create great sense of humanity.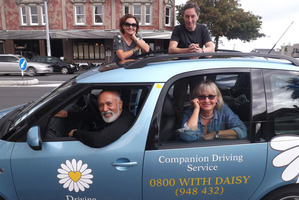 On stage and screen Driving Miss Daisy has been a magnet for some of the world's finest actors and in a local production at The PumpHouse the play proves to be a superb vehicle for the extraordinary talents of George Henare and Annie Whittle.
Their exquisitely crafted performances seem entirely effortless as they breathe life into the gentle tussle of wills between a cantankerous retired teacher and an elderly black chauffeur.
Whittle captures Miss Daisy's prickly independence and brittle loneliness while Henare establishes a mellow, easy-going rhythm that is utterly engaging.
The slowly changing dynamic of their relationship performs an educative function as the audience are drawn into experiencing the transformative power of simple human companionship.
The appeal of the play lies in its seamless blending of the personal and the political, and the down-to-earth humour avoids any sense of preachiness while delivering a powerful indictment of the genteel brutality that enforced racial segregation in the Southern states.
The political context is effectively reinforced through photographic projection and contemporary music - most notably with the spine-chilling voice of Bessie Smith.
Playwright Alfred Uhry draws on personal experience to present a perceptive account of the awkward solidarity that was forged between the prosperous liberal Jewish community and the black American civil rights movement.
The third, often overlooked, character is ably played by Phil Peleton with a sympathetic portrait of an eager-to-please Jewish merchant who clearly understands the machinery of oppression but is paralysed by the need to fit in.
The production would have benefited from a more coherent design vision but Louise Wallace's direction suggests a willingness to follow the instincts of her actors and the trust is rewarded with performances that exude a compelling sense of humanity.
Theatre review
What: Driving Miss Daisy
Where: The PumpHouse, until May 19.