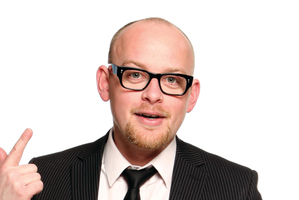 What sort of voice should we read your answers in?
19th century Portuguese sailor.
Are you worried about how you'll come across in print?
No, I speak dead good, and every time I talks on paper it seam dead good and make me look clever and funny and sexy for all da lady and also clever.
Describe your show in 10 words or less.
Essentially a romantic escapade set against the backdrop of my life. That was 12, and also not totally accurate. You put me under pressure with the 10 words thing.
Is there somewhere we can see your work online? If not, why?
I've got a few clips on YouTube, but who hasn't?
Spies. That's who.
What does your mum think of what you do?
She died when I was 16. Awwwwwkkkwwwwaaaaarrrrddd. My step-mum thinks it's brilliant though. Which isn't the same but it will have to do. I will be so impressed if a) you print that, or b) ask that question again. Ha ha.
Eight minutes into your show, all going well, what should be happening?
My dance routine. I'm using the New Zealand traditional folk dancing troupe "Good Folking Luck" to do a big number on minute seven. It will go on for at least 12 minutes. PS: I now realise that the amount of bulls*** I've spouted in these answers makes it look like my mum isn't dead, but that bit was actually true.
Where are you usually when ideas or jokes come to you?
Being hungover really helps. I don't know what happens to the mind but it's like my thought process slides sideways and everything that occurs to me feels like stand-up.
What's more important to have as a comedian, youth or wisdom?
Speaking as a 32-year-old I'd say wisdom. Please God, let it be wisdom. Skinny jeans don't fit me.
Who's your comedy hero, and why?
Chris Rock. He has three or four of my favourite bits of stand-up of all time. The size of his performance puts some people off, he's a massive character, but he is unrivalled forme.
On Love, On Life and On the North Island
Where and when: Vault at Q Theatre, May 14-18.