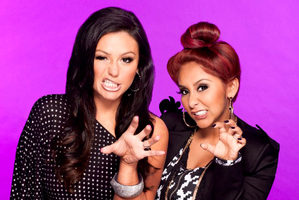 Snooki isn't as crazy and wild as she used to be. As the party girl of the notorious reality show Jersey Shore she was up for anything.
These days she's grown up a little, is mum to 8-month-old Lorenzo, and her own show, Snooki & JWoww, starts its second season tomorrow on MTV.
The Jersey Shore off-shoot follows Snooki (real name Nicole Polizzi) and her best mate JWoww (Jennifer Farley) as they go about their, er, normal everyday lives.
Although, in typical Snooki style, she was filmed giving birth to Lorenzo and it is one of the highlights of the second series.
Q: Is Lorenzo keeping you busy?
He's sleeping right now but he's definitely a little crazy boy who likes to drive me insane.
Q: He takes after his mum then perhaps?
Exactly.
Q: Is the second season of Snookie and JWoww quite different from the first considering you're pregnant and about to have Lorenzo?
You get to see more of Jenni and me on a more normal basis, living our real life. And we're actually not living together; she's with Roger and I'm with Jionni so you see our real homes and everything from me having Lorenzo, Jenny getting engaged, and then us still trying to be friends even though our lives are different.
Q: You were known best for your wild partying ways on Jersey Shore. It's the reason you were so popular. How have your fans dealt with you growing up? Have they moved on too?
This show has us growing up and I think the fans grew up with us. They loved the transition from being 21 in our wild and crazy days to being 25 and 27, settling down and starting our own families.
Q: Tell us about being a mum. What is it like?
I was nervous to be a mum because it was unexpected. We loved the fact we were having a baby, but I was nervous because I wasn't really good with kids, I didn't know how to hold a baby. But once I had Lorenzo everything just came so naturally and everything that's going on, like teething, I know exactly what to do but I don't know how I know.
Q: So what was it like giving birth on TV?
The producers weren't in the room. So it wasn't their cameras. It was just me, Jionni, and my mum in the room and Jionni was filming it for us. But then we talked about it, watched the tape, and there wasn't anything too crazy for TV so I was like, 'Maybe we should show this footage'. Because the fans have seen me drunk and falling on my ass at 21, to being pregnant, and now having a baby at 25, so I thought they would love to see the footage.
Q: What did Jersey Shore do for your career?
It was a crazy experience. I was living it up and having the best time of my life. Going on that show I wasn't thinking, 'Oh my God, I'm going to get famous and make a career out of this'. I wanted to go on the show to get drunk, and then look what happens.
TV preview
Who: American reality star Snooki
What: Snooki and JWoww
When: MTV, Tuesday, 8.30pm.