TV newsreader working with her band to get good Maori tunes in mainstream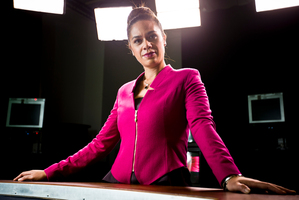 New Zealand's only pop-star-turned-newsreader is set to make a return to the music charts - but won't be giving up her day job.
Amomai Pihama, 33, is one of Maori Television's senior journalists. She is the weekend newsreader for Te Kaea.
She started in radio journalism as a teenager and toured at the same time with Aaria, one of the few te reo Maori pop groups to make an impact on music charts in the past decade.
A vocalist, she is also writing material for her group Manea's album, Toku Ao, which is funded by broadcasting agency Te Mangai Paho. She is clear about what the music won't be.
"Most Maori music is written about serious stuff. It's about whakapapa or tikanga Maori or te reo. Our music isn't about that. So far we've got two love songs, another is about the way we prep and build up to a good night out.
"We just wanted to address all the different corners of our world. It's just life - but we don't have Maori music that talks about simple everyday life situations.
"It's fun, it's a bit naughty and a bit crazy. It's just how we interact with our peers and our families and our loved ones."
Other Manea members are former Aaria colleague Hemi Peke, Selwyn Tepania, Atarangi Putamainu and Marama Gardiner.
Ms Pihama doesn't mince words about the current quality of te reo music - she wants Manea's music to be accessible, good enough to be on mainstream playlists, played in the car or on iTunes.
"The majority of Maori language music is rubbish. It's my honest belief the reason Maori music doesn't make it into mainstream radio stations is simply because the music is not up to scratch.
"What I mean is, the combination of the beats or music track combined with the lyrics ... if you can get those three things then you're more likely to have a song that people are going to like."
The next few months will be busy for the mum of two children - Pureora-Pearl Timutimu-Pihama, 6, and Poutiriao, 8 - as she finishes the songs while splitting her time between reporting three days a week and newsreading. Still, she wouldn't have it any other way.
"I love my mahi (work). I love talking to people about real things, about what's really going on and how it makes sense to a certain group of people. I like finding out why people have done the things they do, what makes this person tick.
"I'm a journalist who always sees the good in people until I'm proven wrong, which I think differentiates me from others I've worked with over the years.
"I don't have that cynicism, and the reason is because I have a creative outlet. I keep it all in balance."