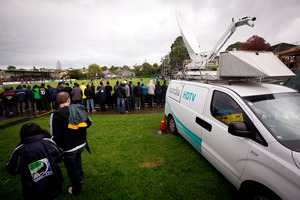 New Zealand's sporting bodies have made a united stand so they can tune in to ever-growing broadcast options.
Many smaller sports are frustrated and angry at their inability to find the airwaves, a situation made worse by TVNZ's new commercial imperatives. But at the same time those sports have ignored or overlooked the amazing possibilities of the digital age. This is despite New Zealand viewers being highly patriotic, according to a number of survey figures the Herald has been made aware of.
The first draft of a wide-ranging report, after five months of investigations, was presented last week. Twenty-six out of the 32 sports approached - including rugby, league, cricket and netball - took part.
Leading light Craig Waugh, the boss of Triathalon New Zealand, insists it is not an attack on Sky. The report looks at all coverage available in the high-tech age.
Waugh, previously a marketing executive, says: "At Triathlon New Zealand we produce our own content but it is tougher and tougher to get our material out there.
"Our sponsors and commercial partners have expectations... and we also had concerns about participation and inspiring kids. Little Johnny will be seeing a lot more international stuff brought in from Sky, but less domestic sport.
"The significant growth in products like iPads and iPhones, the changes in the consumption of sport, meant we need to make sure we are on top of it.
"We spend hundreds of thousands of dollars we don't have to produce content but invariably when we have discussions about showing it, [Sky] won't buy it. It is a commercial organisation but do I like it - well no. It makes my life bloody tough. I also think it's sad as a country.
"Sky has a great variety of sport and has made our sporting landscape truly international. Like everything, there is a positive and a negative and we are missing a trick with the domestic stuff."
The dissatisfaction does not just involve second-tier sports. One sports broadcasting insider told the Herald that Sky lets rugby down by failing to produce high-quality and interactive content around the match. They pointed to ESPN as showing what can be done for major sports, in contrast to what they saw as Sky's dated and tired rugby coverage. The insider also claimed Sky got the rugby rights at a bargain price.
Waugh says second-tier sports must let go and put their faith in creative experts.
"The cost of internet packages is going down as use goes up and the faster broadband coming in is the greatest thing," he said.
"This is the first time we have looked at this whole space in an aligned way. We don't have a lot of weight as individual sports and get told what will happen... as a collective we could even create our own channel."