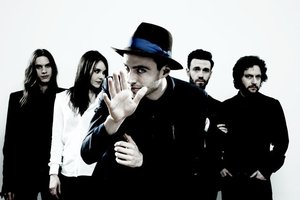 This album by British drum'n'bass quartet Rudimental is at No2 on the album charts at the moment - unfortunately they were unable to oust crooner Michael Buble's To Be Loved from the top spot. Much of that popularity comes off the back of a couple of singles, Feel the Love and Not Giving In, both released last year featuring Cee Lo sound-alike John Newman on vocals. You can see why an anthem like Not Giving In is so popular, starting out like an old-school, piano-driven soul ballad, before it escalates with bombastic, chest-thumping beats - and they pretty much use the same formula for Feel the Love. But it's when they break out of that formulaic anthem style, build smouldering textures and reveal their wide-ranging musical influences that they are at their best, such as on Hide, which trundles along somewhere between two-step and drum'n'bass, with jazzy flourishes and the gorgeous circling vocals of Sinead Harnett.
Right Here has two sides to it, with the sweet and seductive vocals of rising British singer Foxes giving way to fractured and distorted beats that throw shards into your heart.
And apart from having a touch of Bruce Hornsby and the Range to it, Free is a fitting end to an album that has taken drum'n'bass to the mainstream, and more importantly, alongside its key underground players, helped keep the genre alive.
Stars: 3.5/5
Verdict: Drum'n'bass for the mainstream, man
Click here to buy Home by Rudimental
- TimeOut